Credit by Edelman Malaysia © Starbucks Dewata Coffee Sanctuary
Indonesia's resort island of Bali is a popular holiday spot among global travelers, and its status as a gateway tourist destination to Southeast Asia's largest economy has led to US coffee giant Starbucks opening its largest store in the region in the island's busy neighborhood of Seminyak.
The branch takes after Bali's colloquial title, namely Starbucks Reserve "Dewata", a term that means "god" in the Hindu-majority island locally dubbed Pulau Dewata (Island of the Gods).
Situated on Jl. Sunset Road in Seminyak, the store is built on over 2,000 square meters of land and boasts a laid-back layout. With swinging seats on the patio and plush couches in the library-themed room on the second floor, it will be easy to feel cozy and right at home in Southeast Asia's largest Starbucks store.
Dewata goes beyond being a regular Starbucks hub, even with its upscale Reserve bar, as the store has been designed to become a coffee sanctuary that offers an in-depth look into the coffee-making process.
The store itself is a tribute to Indonesia - the fourth largest Arabica coffee-growing region in the world - as Sumatran coffee has been a staple offering at Starbucks since 1971.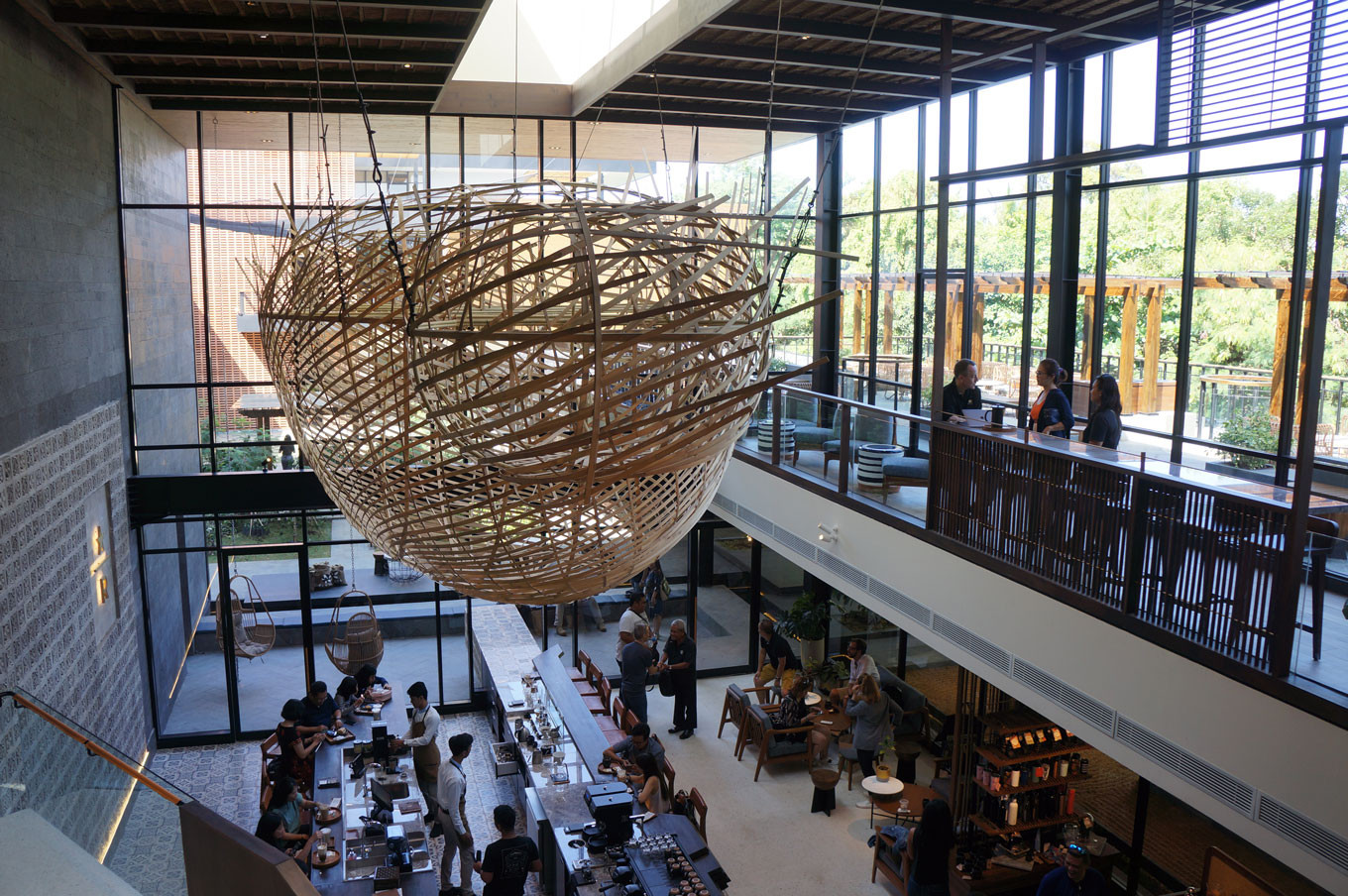 "The Starbucks Dewata Coffee Sanctuary amplifies our passion for the coffee journey, our ongoing commitment to Indonesia's rich coffee culture, and our tireless pursuit of fostering moments of connection between our partners and customers." said Kevin Johnson, CEO of Starbucks Coffee Company in a statement.
The outlet's gorgeous interior puts a contemporary twist on traditional Balinese houses and extensively features Indonesian art
The 20,000 square feet outlet has an awe-inspiring design that highlights the finest local Indonesian craftsmanship and culture in its expansive free-flowing space.
Visitors can gaze upon an intricate two-story mural in the courtyard that depicts the hardworking local farmers who expertly nurtures all the coffee beans that goes into your favourite morning pick-me-upper.
Serving a unique sensory experience, visitors are treated to an interactive tour on the origin of Sumatran Arabica coffee beans.
Upon being greeted by at concierge, visitors will take a stroll through a 1,000 square feet Arabica Coffee tree farm (it's about the same size as a normal Indonesian coffee farm).


Visitors will then head on to a de-pulping station to get a hands-on experience at washing, drying, and raking coffee beans. Just as the local coffee farmers do!
The second floor boasts an open-aired concept seedling nursery where visitors can learn about the first stages of the seed-to-cup journey and the art of tending to coffee plants from a local Balinese farmer.
Completing the tour of the five senses, visitors can then treat their palate to three specially curated beans only available at its store, from Bali, Sumatra and Priangan in West Java, on top to the selected limited beans at the Reserve bar, The Jakarta Post reported.
The Dewata Coffee Sanctuary serves up more than 100 beverages, food, and merchandise that's exclusively available at this outlet.
Highlighting the finest of local art and curating you a one-of-a-kind coffee experience, this Starbucks outlet should definitely be on your bucketlist for your next visit to Bali.
Coffee enthusiast or not, the Starbucks Dewata Coffee Sanctuary has easily become a must-visit destination in Indonesia
Proud
50%
Sad
7%
Excited
7%
Indifferent
0%
Inspired
29%
Amazed
7%