Credit by CNN | swimming with whale sharks in the Philippines
NATURE
Philippines
This Southeast Asian Country Has Second Largest Known Population of Whale Sharks
The Philippines officially hosts the second largest known population of whale sharks in the world according to Wildbook for Whale Sharks, a global online population catalogue used by scientists and the public.
The Philippine population total, which now stands at >1,600 individual whale sharks, was reached through the submission of photo-identification data from dedicated work by LAMAVE, WWF-Philippines and avid and active members of the public.
Previously, Australia was recognised as the second largest known population on the database, while Mexico remains the number one global hotspot, with more than 2,400 individual whale sharks identified in its waters.
The Philippines' progression to the number two spot, highlights the global significance of the archipelago for this endangered species, and emphasises the country as a conservation leader for the species in South East Asia.
Whale sharks are identified by the unique spot patterns on their bodies. Similar to a human fingerprint, these unique patterns enable scientists and the public to distinguish individual whale sharks by comparing a photograph of the left side of the body.
Using this technique called photographic identification or photo-ID, anyone can contribute to the collaborative effort to understand the global population of whale sharks by submitting photos to Wildbook for Whale Sharks.
Swimming with the world's largest shark is a "bucket list" item for many people. Reaching lengths of up to 40 feet or more, weighing at least 20 tons, and living up to maybe 70 years, these animals can look intimidating for those wary of sharks in general.
As plankton-feeders, they are found feeding in shallow waters worldwide which allows countries to take advantage of these aggregations for tourism purposes.
The ethics of interacting with them is complex: while the revenue they bring in can benefit the local economies and help fund conservation research.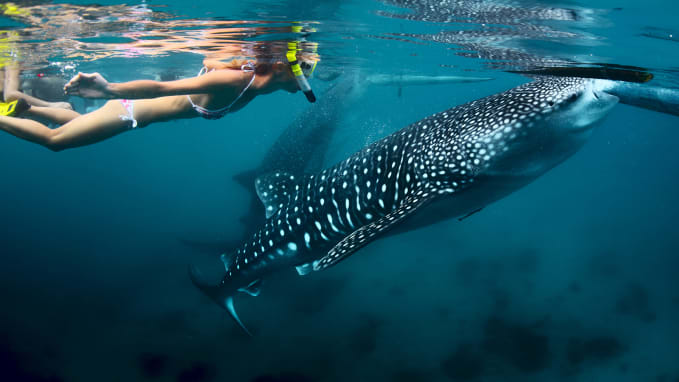 "The whale shark continues to face threats internationally, and also in Philippine waters through unregulated tourism and accidental bycatch, however being recognised as the second most significant whale shark population in the world, according to Wildbook for Whale Sharks, is something to be celebrated. LAMAVE hopes that the Philippines will continue to lead in conservation efforts to protect the Butanding (tuki, tiki-tiki, taloki, tawiki, tiriki-tiki, iho-tiki), the pride of the country," concluded LAMAVE.
Proud
44%
Sad
0%
Excited
0%
Indifferent
22%
Inspired
22%
Amazed
11%