Airlines, these days, release new uniforms for their cabin crews, to much pomp and ceremony. In a bid to outshine each other, fashion designers are called in to create new looks, new identities, to go along with the airlines' brands. Unlike uniforms in the 70s-80s, Today's travel atmosphere is more about inspiring trust and calm than it is about giving people a thrill. According to Smithsonianmag. com, nowadays cabin crews would not feel comfortable wearing short skirts or hot pants. Uniforms have become more professional and more like business outfits.
The addition of male flight attendants to the field, and the focus on comfort and safety, led to a less distracting and more gender-neutral look. Distinguishing cultural identity markers tend to be integrated more subtly.
We've compiled 26 best cabin crew uniforms from airlines worldwide.
Air France's uniforms have long been considered to be the most stylish in the skies. The current ones in use were designed by French designer Christian Lacroix.
Hainan Airlines' uniforms were designed by Laurence Xu and features traditional Chinese imagery while maintaining a modern style. They even made their debut during Paris Couture Week!
Crafted by Italian couturier, Ettore Bilotta, Etihad Airways' uniforms combine 1960s Paris couture with runway looks from London and New York.
Qantas' uniforms were designed by Martin Grant, one of Australia's most acclaimed fashion designers. They were even modelled by supermodel, Miranda Kerr.
Singapore Airlines (Singapore)
Singapore Airlines has been donning the same uniform since 1968! They are considered to be the "longest serving uniform" in the skies.
Korean Air uniforms were crafted by Italian designer, Gianfranco Ferré. The women also don hairpins that are meant to represent the "binyeo", a traditional Korean hair accessory.
Designed by Oscar-nominated costume designer William Chang, China Airlines' uniform are a fusion of a traditional Mandarin gown and modern Western fashion. They have often been described as "futuristic".
Emirates' uniform has remained largely unchanged since 1997, with only a few modifications in 2008. It was designed by UK-based manufacturer, Simon Jersey.
American Airlines recently redesigned their uniforms in conjunction with their re-branding. This is the first change they've had in 30 years.
Air Malta is one of the smallest airlines in the world, but is yet considered to have one of the most stylish uniforms. Their colourful scarves and ties are meant to reflect the liveliness of the Maldives Islands.
Hongkong Airlines (Hongkong)
Hong Kong Airlines new uniforms feature the women in skirts, after a long history of them wearing dresses. They were fit for purpose, comfort and style.
The men on Air India wear contemporary suits while the women have a choice of wearing either yellow saris and kurtas or a more formal long-sleeved black ensemble.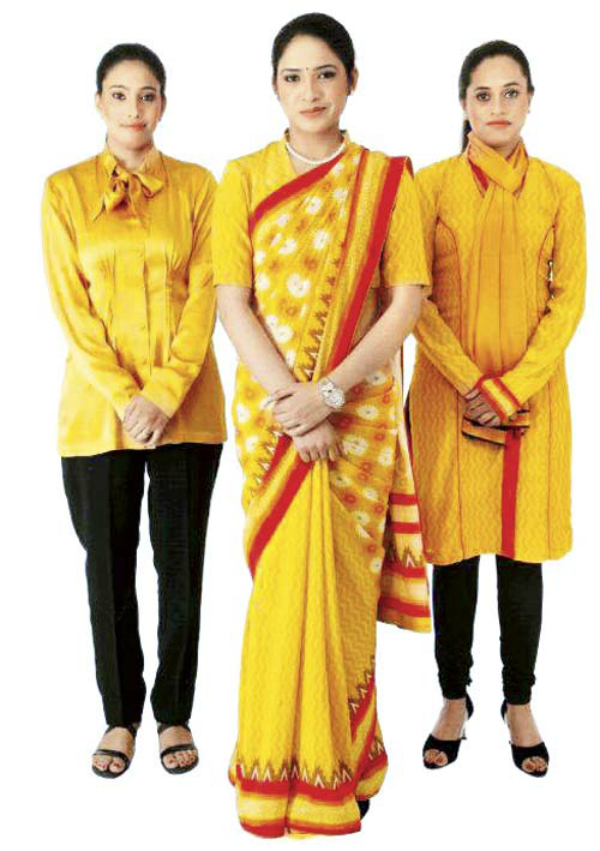 Thai Airways' slogan, "Smooth as silk", well describes their unique purple uniforms. The women are also required to wear a fresh purple flower on their lapel.
Fiji Airways was styled by Alexandra Poenaru-Philp, who was selected from a pool of Fiji based designers. The motifs on the material were created by Fijian artist, Makereta Matemosi.
Qatar Airways' uniform was designed by Olino and is one of the most recognisable uniforms in the world. The crew also has a "grooming officer" who ensures the crew look in perfect shape.
Alitalia's style is designed by Milanese designer, Ettore Bilotta. It was inspired by 50s and 60s Italian fashion.
Japan Airlines' uniforms were designed to match the carrier's livery.
Hawaii Airlines is known for its unique cape, donned with traditional Hawaiian motifs. Some employees even say the capes make them feel like Beyoncé.
China Eastern Airlines (China)
China Eastern Airlines' uniforms were designed by Christian Lacroix to be "simple, beautiful and dignified". They are a fusion of an elegant oriental style and Shanghai style fashion.
Garuda Indonesia (Indonesia)
Garuda Indonesia's uniform was designed by a team of experts in fashion design. They even had a former staff member provide input on how practical the design should be.
La Compagnie was styled by the French fashion house, Vicomte A. They were made to look less like corporate attire and more like the kind of suits you'd see in classy bars across the world. The women even have the option to wear shorts!
Malaysia Airlines (Malaysia)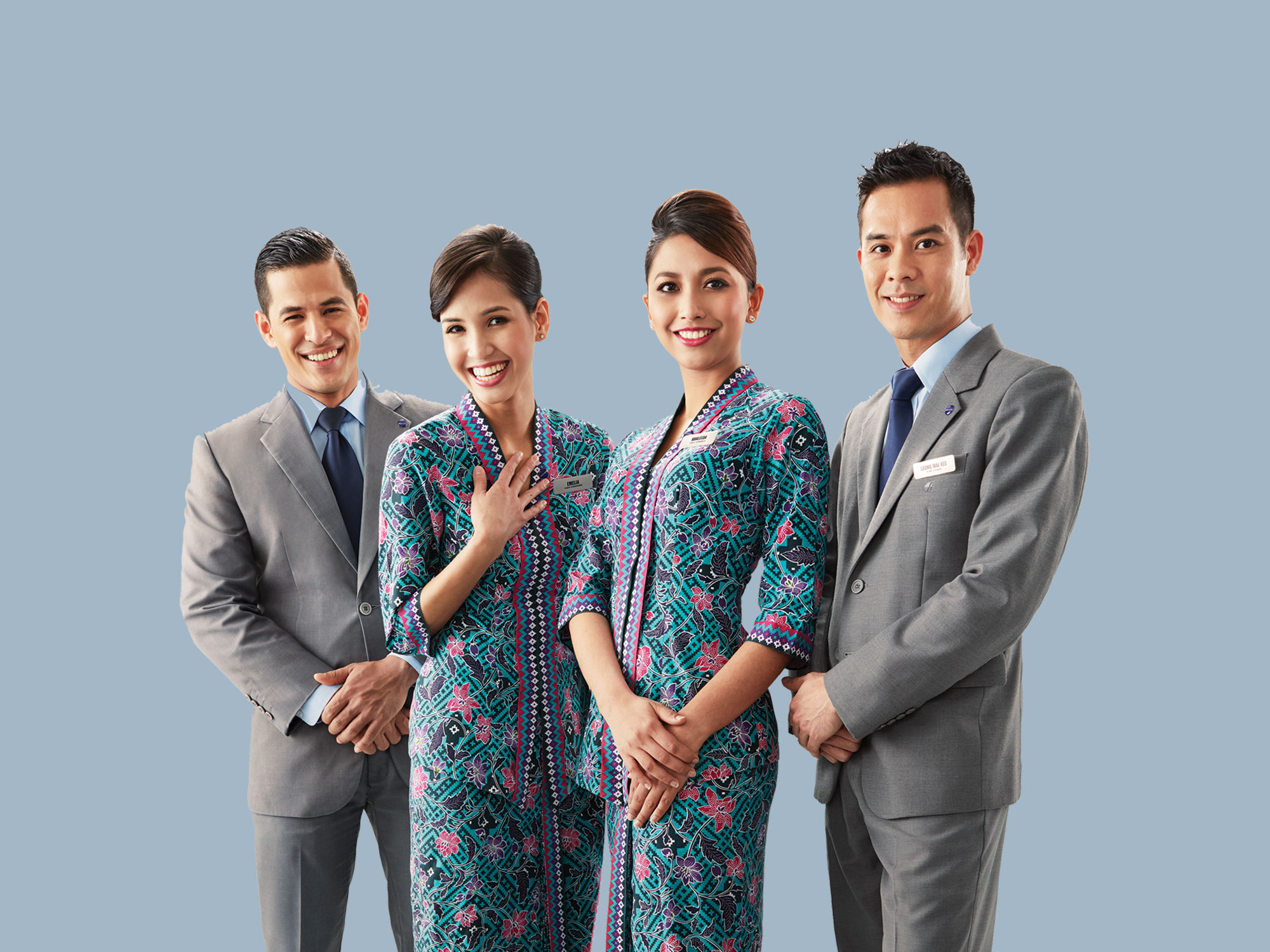 The Malaysia Airlines kebaya the women wear has been an iconic symbol of the carrier for decades. The uniform was due for a redesign by fashion brand Farah Khan as announced by the airlines in 2016.
Gulf Air's uniforms were designed by Pierre Balman. Their uniforms have a history embracing French haute couture fashions, even with their uniforms in the 50s.
Vietnam Airlines (Vietnam)
Srilankan Airlines (Srilanka)
Women in the cabin crew wear the country's national costume, the osariya, while the men wear western black suits. The design of the osariya is based on the pattern of a peacock.
- Virgin Australia (Australia)
Virgin Australia's uniform was designed by fashion designer and Project Runway winner Juli Grbac. The whole process of creating the uniform, from the sketching to the actual sewing, took just seven months; much faster than most other airline.
So, which one is your favourite?
Source : Smithsonianmag.com | Says.com | The Design Air