DEFENCE
Indonesia
Indonesian Naval Vessel 'Bima Suci' Arrives in Manila for Goodwill Visit
Kapal perang Republik Indonesia (KRI, Naval Vessel of the Republic of Indonesia) "Bima Suci" (945), an Indonesian training ship, docked in Manila on Monday for a four-day goodwill visit aimed at strengthening further the relations between the two Southeast Asian countries.
Commander Jeffrey Magbanua, executive officer of the Assistant Chief of Naval Staff for Civil-Military Operations, led the Philippine Navy (PN) delegates in according a warm welcome to the 192-member Indonesian Navy contingent led by Lieutenant Colonel Waluyo, commanding officer of the KRI Bima Suci.
"The presence of this Indonesian Navy vessel, led by Lt. Col Waluyo and its 103 Indonesia Naval Cadets and 89 officers and crew contingent, underscores the relationship between our government and navies," Magbanua said.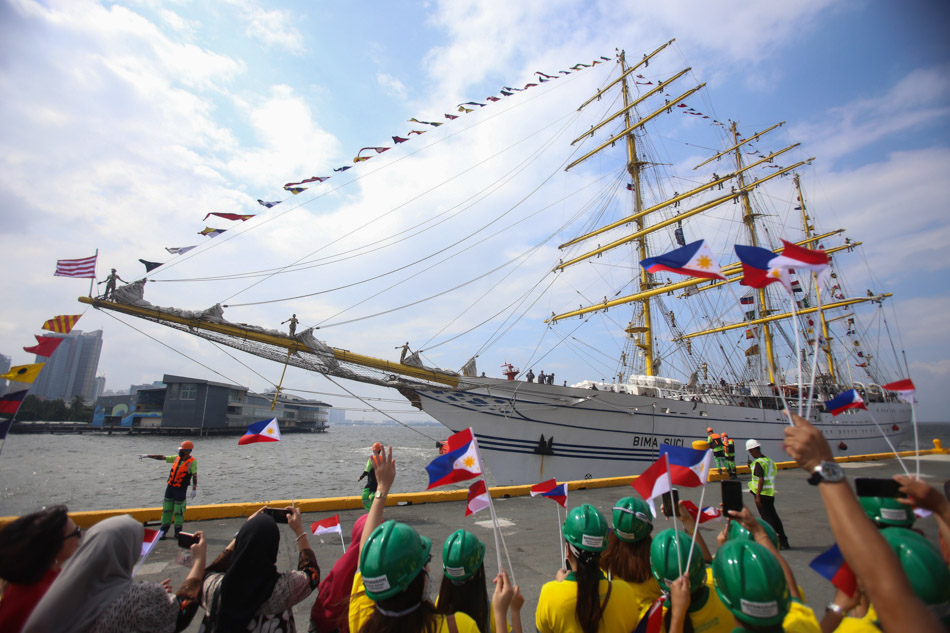 "This trumpets the Philippine Navy's commitment in promoting naval diplomacy and camaraderie and fostering goodwill with our Indonesian Navy counterparts," he added during a news conference following the ship's arrival as quoted by The Manila Times.
The Philippines and Indonesia have established a long history of defense cooperation.
Since the establishment of diplomatic ties in 1949, Indonesia has been one of the closest allies of the Philippines and the Philippine Navy. Both countries have supported each other's policies in the region such as democracy and the rule of law in the South China Sea.
According to Manila Bulletin, a trilateral maritime cooperation agreement on border security was finalized in Kuala Lumpur in 2018 among the Philippines, Indonesia, and Malaysia to prevent lawless elements such as pirates, smugglers, and foreign and local terrorists from using the southern backdoor as their entry and exit points to and from the three countries.
"We know that in the ASEAN (Association of Southeast Asian Nations), we have so many issues regarding our maritime sector such as piracy, areas dispute, and fisheries," Waluyo stated.
"The cooperation is part of Indonesia's commitments to participate in maintaining security in Southeast Asia which focuses on capacity building in supporting the peace missions and maintaining border and maritime securities," he said.
'Bima Suci'
The KRI Bima Suci is a three-mast barque tall ship which is regarded as one of the largest tall ships in the world with a 36,200 sq. ft. of sails, and a capacity for a crew of 200.
Named after a Javanese hero who was a "symbol of force, bravery, and righteousness," KRI Bima Suci is the Indonesian Navy's newest and largest sail training ship which is equipped with a series of "extremely sophisticated navigation and communication tools and a reverse osmosis water supply."
Proud
67%
Sad
0%
Excited
0%
Indifferent
0%
Inspired
0%
Amazed
33%