Southeast Asian ride-hailing firm Grab and South Korean automaker Hyundai officially introduced GrabCar Elektrik, Grab's electric vehicle (EV) service in Jakarta, on Monday, Tech in Asia reported.
Last December, Grab announced pilot EVs and its EV ecosystem roadmap. It partnered with Hyundai for the cars, and with Astra Honda Motor and Gesits for two-wheeled EV fleets.
According to The Jakarta Post, GrabCar Elektrik will be made available with the deployment of 50 Hyundai Ioniq EV cars, with a pilot service at Jakarta's Soekarno-Hatta International Airport.
"The [taxis] are available for booking starting today," Grab Indonesia president director Ridzki Kramadibrata told the press at the launch event on Monday.
Users of GrabCar Elektrik would be charged 10 to 15 percent higher than the regular GrabCar service, said Ridzki. This meant that Grab's e-taxi passengers would be paying Rp 2,200 (16 US cents) to Rp 2,750 per kilometer instead of Rp 2,000-2,500 per kilometer.
"We decided to launch the pilot [program] at the airport because we can easily charge the vehicles [there]. And the airport offers diverse consumers, from domestic to international users," Ridzki at the event on Monday, emphasizing that Grab's e-taxi service was in line with the government's green energy initiative.
Earlier on Dec. 13, 2019 during the launch of Grab Indonesia's EV Ecosystem Road Map, Ridzki announced that the EV trial program would be financed by a Rp 27 trillion ($2 billion) investment from Japanese conglomerate SoftBank.
He added on the same occasion that the company planned to deploy a fleet of 500 electric cars by the end of 2020. The majority would be Hyundai models, but he said that Grab remained open to offers from other automakers.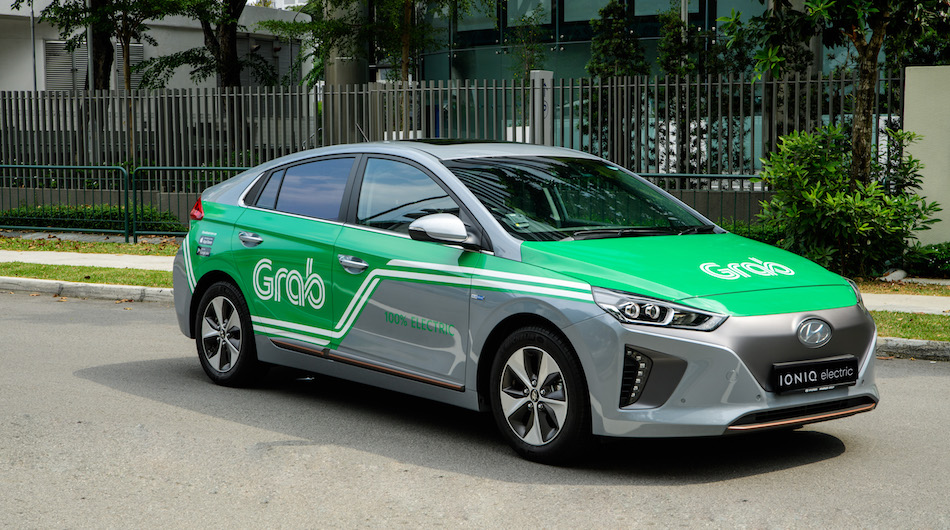 Ridzki said that the expansion plan also depended on provisions and facilities in the business support ecosystem, such as tax incentives and charging stations.
To date, Jakarta has only three EV charging stations: at the South Jakarta headquarters of state electricity company PLN, at the company's central distribution unit in Central Jakarta, and at the Senayan City shopping mall in South Jakarta.
Just last year, Blue Bird procured 30 e-taxis from Chinese automaker BYD to expand the fleet of its regular Blue Bird service, and procured four Tesla cars from the American EV manufacturer for its Silver Bird high-end taxi service.