EDUCATION
Indonesia
Indonesia E-Commerce Blibli.com Opens Amazon Go-like Cashless, Cashier-less Physical Store
Indonesian e-commerce firm Blibli launched its first offline store, called BlibliMart, in central Jakarta on Tuesday, KrAsia reported.
The shop practices cashless and cashier-less concepts. It lets customers pick up and check out items on their own by scanning product barcodes using the Blibli app, then pay via Bliblipay or GoPay.
Even so, given that unmanned stores are still a new phenomenon in Indonesia, Blibli still employs shopkeepers to assist people with transactions. The shopkeepers also assist customers with their purchases as they still need to adjust to a cashier-less shopping system.
"There are still a lot of questions from the customers, and there are a lot of connection problems too, so we provide free Wi-Fi for the customers,"
Fransisca Krisantia Nugraha, Blibli's senior vice president of trade partnership, told The Jakarta Post during the store's debut.
"Sixty-six percent of shoppers are omnichannel shoppers, shoppers that use both online and offline platforms for their shopping needs. That's why the retail store will hopefully bring us to these omnichannel [consumers]," Fransisca added to Tech in Asia.
With the addition of retail stores, Blibli aims to triple the 313% order growth and double the 227% gross merchandise value that its grocery business posted last year, the exec said. The startup also looks to achieve 600% product growth this year, as well as an 82% merchant increase per year.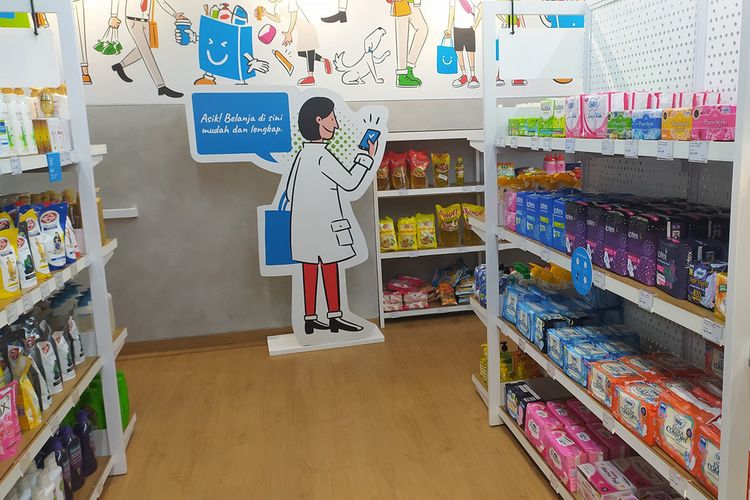 The store's concept is similar to Amazon Go, which also offers a cashless and cashier-less experience for consumers. Unlike its US-based counterpart, however, the BlibliMart retail store still requires its customers to check out their purchases with a shopkeeper to prevent theft. The store also has on-site Blibli staff to help shoppers adjust to a cashier-less shopping system.
According to KrAsia, JD.com's Indonesian subsidiary JD.id was the first company to establish an unmanned store in Indonesia, called JD.ID X, in 2018. Another company that is also building an omni-channel presence is beauty e-commerce platform Sociolla, which opened its first physical store in 2019.
Proud
20%
Sad
0%
Excited
60%
Indifferent
0%
Inspired
0%
Amazed
20%