Vientiane, the capital of Laos, had a public unveiling of a Chinese-made bullet train on Saturday ahead of a test run.
In addition to the 720 passengers, the train has a maximum speed of 160 kilometers per hour. China Railway International, a subsidiary of China State Railway Group, says two of these trains may be connected together to run as necessary.
As well as the locomotive, there are eight other carriages on the train, one of which is designated as first class and the rest as second class.
The temperature of the carriages can be regulated, and each seat has a power outlet that is compatible with both Chinese and Laotian standards. There will be instruction and broadcasting in three languages: Chinese, Laotian, and English, respectively. Passengers with special needs can take use of amenities including wheelchair-accessible restrooms and Braille guide signs on the carriages.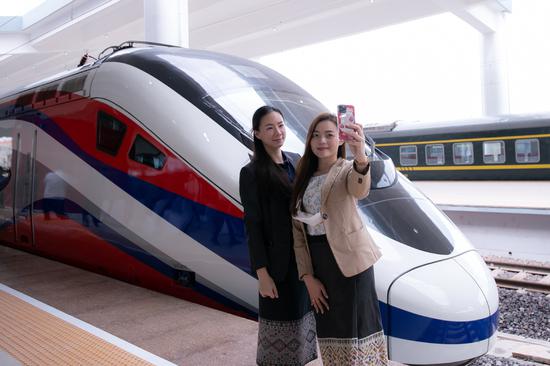 The train was created specifically for the route and is built by subsidiaries of China Railway Rolling Stock Corp., including CRRC Qingdao Sifang and CRRC Dalian. It boasts sophisticated technology, safety, a big passenger capacity, and low operating expenses.
The train is named Lancang after the river, which is also known as the Mekong once it reaches China, and is painted red, blue, and white, the colors of Laos' national flag.
The bullet train will go from Kunming, the capital of Yunnan province in southwest China, to Vientiane, the capital of Laos. During the latter months of this year, the line is projected to be operational.
On Tuesday, the track for the more than 1,035-km-long line was laid.
In slightly over three hours, you can travel from Kunming to Jinghong, a city on the border with Laos. A one-day trip from Kunming to Vientiane is expected.
A new railway station in Vientiane, China-Laos, was inaugurated on October 6. China Railway Construction Group developed the station, which is the busiest on the China-Laos Railway. In addition to the three platforms, there are two more platforms with two reserved tracks at the station, which has a total of six tracks.
According to China Kunming Railway Group, the segment from Yuxi to Mohan in Yunnan was one of the most difficult to build. There are 93 tunnels and 136 bridges in the 508-kilometer segment. 15 tunnels each more than 10 kilometers long cover more than 87 percent of this segment.
Construction technologies and mechanical equipment were upgraded to increase construction efficiency in China State Railway Group's overall strategy to overcome obstacles.
It used to take a lot of time and effort to put up guiding lines for railway laying.
Over 1,000 kilometers of track laying can now be planned in an hour," said Feng Bin, an engineer from the line's project.
According to him, the crew completed 500 kilometers of track in just 80 days.
According to him, they employed the Beidou satellite navigation system to help them map out the course.
Track-laying began in April of last year, and construction crews worked around the clock to meet the deadline.
According to Gu Huaili, deputy head of the project's construction, changes and testing of the tracks and the line's electrical system will be necessary following the completion of track laying.
This year celebrates the 60th anniversary of China and Laos' diplomatic relations. With the Belt and Road Initiative and Laos' plan to become a land-linked center, the China-Laos Railway is one of China's most important projects.
Source:
"Chinese-made Bullet Train Makes Public Debut In Laotian Capital." Chinese-made Bullet Train Makes Public Debut In Laotian Capital, Www.ecns.cn, http://www.ecns.cn/news/2021-10-18/detail-ihasacat0472418.shtml.