Credit by Bagan © Photo by Sébastien Goldberg on Unsplash
Southeast Asia is a beautiful place to visit, and its many popular tourist spots show how beautiful it is. You can explore ancient forests or relax on unspoiled beaches with rainbow lakes and stunning views. Also, some parts of Southeast Asia are harder for most people to get to. This gives travelers the chance to see both the well-known paths and the less-visited backroads of the region.
To make the most of your time in this area, it can take time to figure out what the best places to visit are. TheTravel.com has done the hard (but fun) work for travelers by making a list of the ten best places to visit in Southeast Asia.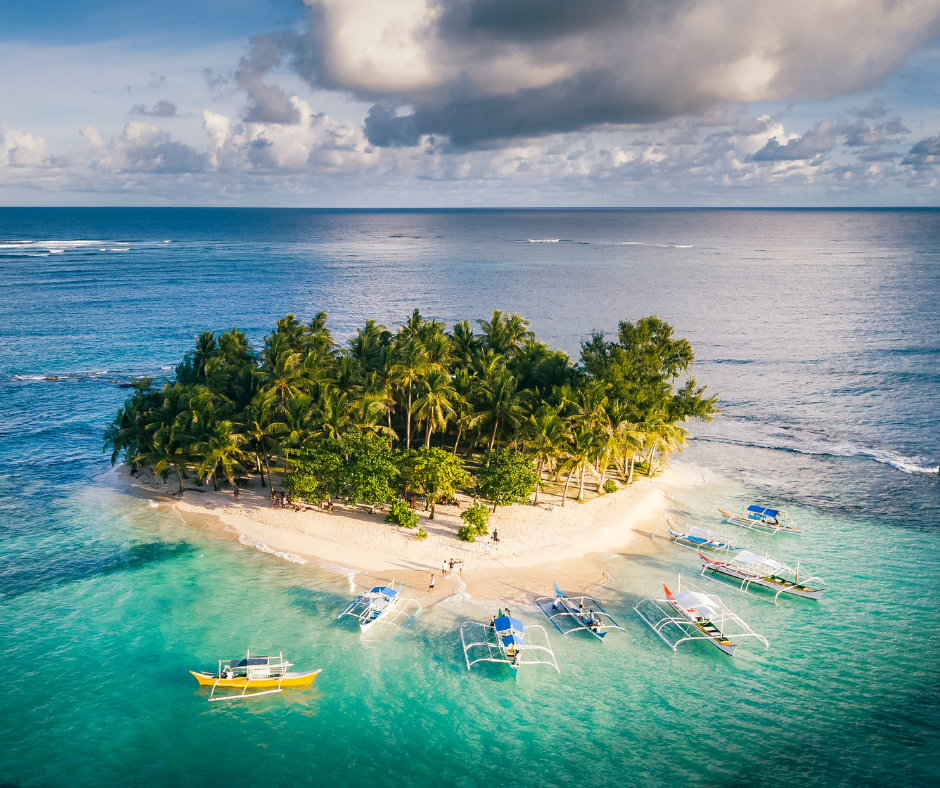 10. Siargao Island, The Philippines
Siargao is a tear-shaped island in the Philippine Sea. It is 196 kilometers southeast of Tacloban and is often called the surfing capital of the country. Jacking Horse and Daku are beautiful places where surfers like to go because they have big waves. People who aren't good at surfing can do a lot of other things. Travelers can relax at the island's many resorts, cool off in Magpupungko's pools, or go to Tayangban Cave Pool, a half-submerged grotto surrounded by mangroves where they can swim, climb, and cliff jump.
9. Koh Yao Yai, Thailand
Ko Yao Yai Island is tucked away between the tourist hotspots of Phuket and Krabi. It is a small, undiscovered haven that shows off the natural beauty of the Thai islands. There are sandy beaches, nice resorts and spas, mangroves, rubber plantations, and fishing villages on Ko Yao Yai. Nearby coral-rich seas are full of places to dive, like the King Cruiser Wreck near Anemone Reef and the pinnacles of Shark Point. Native Muslims on the island have built up thriving businesses by growing rubber trees and fishing.
8. Bagan, Myanmar
Bagan was the capital of Myanmar's first king and is now a UNESCO World Heritage Site. Between the 11th and 13th centuries, more than 10,000 Buddhist pagodas and temples were built in this area. Nearly 3,500 monuments still stand in the Bagan Archaeological Zone, which is 41 km2 in size. The Dhammayangyi Temple is the biggest and most famous temple in Bagan. It is known for its mysterious bricked-up interior, which can be seen from anywhere in the city. The white Shwesandaw Paya pagoda has amazing views of the city's hills and temples, and it's also the best place to watch the sun go down.


7. Penang Island, Malaysia
In the Strait of Malacca, near the Malay Peninsula, is the Malaysian island of Penang. When people visit Penang, they will be surprised by how many different Asian cultures are mixed together. The British Fort Cornwallis, the Chinese clan temple Khoo Kongsi, and the Indian-style Kapitan Keling Mosque are all located in George Town, which is the state capital of Penang. There are also important places of worship like the Goddess of Mercy Temple in China, the Kek Lok Si Buddhist Temple, and the Sri Mahamariamman Hindu Temple.
6. Hanoi, Vietnam
Since the 1990s, tourists have been able to visit Hanoi, the capital of Vietnam. It is now one of the best places to go if you want to learn more about Vietnamese culture. In the historic district, there are a lot of hotels, shops, places to eat, and bikes. The Temple of Literature is also one of the most beautiful buildings in the city. This is not a secret. In the 11th century, it was built as a university. Today, it is a Confucian temple. The tomb of Ho Chi Minh is also in Hanoi.
5. Bolaven Plateau, Laos
The Bolaven Plateau, or Phu Phieng Bolaven in Lao, is a lush area that includes parts of all four southern provinces. It is known for its mild weather, beautiful waterfalls, and great coffee. The historic village mansions and coffee plantations are must-sees, but the stunning waterfalls in the area are the cherry on top. Reserving a room at a luxurious resort on the beautiful banks of the Mekong River and taking a motorcycle ride on the 500-kilometer fresh, wild road the country has to offer, starting in Paske, is a great way to spend a day.
4. Angkor Wat, Cambodia
Spend some time in Siem Reap, a resort town in the northwest of Cambodia that is also the gateway to the Angkor temple complex, which was the capital of the Khmer Empire from the 9th to the 15th centuries. Southeast Asia has a lot of historical sites, but Angkor is one of the most important. Angkor Archaeological Park is made up of more than 400 km2 of land, most of which is forested. It is home to the impressive ruins of several ancient Khmer capital cities. With all of its sculptures, the Bayon Temple in Angkor Thom is another highlight.
3. Nusa Islands, Indonesia
The Nusa Islands are a well-known group of three islands in Indonesia, just south of Bali. Nusa Penida, Nusa Lembongan, and Nusa Ceningan are all great places to visit for a fun trip. Tourists are going to the Nusa Islands more and more these days. Still, some parts have peaceful white-sand beaches with turquoise waters. Other parts have dramatic cliff faces and surf breaks, naturally formed infinity pools, and beautiful hidden lagoons. Manta rays live in this part of Indonesia, so people who visit the islands can swim, snorkel, or scuba dive with them.
2. Singapore
Singapore is not like any other country in Southeast Asia. This city-state on an island is cutting-edge and global, with high-rise hotels, malls, and natural landmarks that are stunningly beautiful. For example, Sentosa Island has a two-kilometer beach, a renovated coastal fort, Southeast Asia's first 4D theater, a butterfly park, an insect kingdom, and even a Universal Studios Singapore theme park. In Singapore's airport, there is the world's largest indoor waterfall. There is also a five-story indoor garden, a mirror and haze maze, and a huge butterfly garden with over a thousand species of butterflies flying freely among tropical plants.
1. Tegalalang Rice Terraces, Bali, Indonesia
The Tegalalang Rice Terrace is one of the most beautiful and well-known places on Bali. It is about 20 minutes north of Ubud. The rice paddies at the UNESCO World Heritage Site are big and hilly because of a complicated irrigation system and the hard work of farmers who have been taking care of the terraces for hundreds or even thousands of years. Here, for just a few cents, people can spend hours walking around the decks and taking in the views of green fields that go as far as the eye can see. People who get there early in the morning will have the place to themselves and can watch the rice fields gently move in the wind.
Proud
0%
Sad
50%
Excited
0%
Indifferent
0%
Inspired
50%
Amazed
0%