"It's bigger and better," boasts founder KF Seetoh, of this year's World Street Food Congress in Manila, an event that puts the spotlight on street food as a tourism driver and global enterprise.
For five days from May 31 to June 4, hawkers from 13 countries and influencers from around the world will fill the festival venue the size of two football fields at the new SM Mall of Asia in Pasay City, a fabulous location by the sea.
This is the second consecutive year the event, started in Singapore by Seetoh's company Makansutra in 2013, is being hosted in Manila.
Organisers consider last year's event a success; it attracted some 300 international delegates and 24 hawkers from nine countries.
This year's event is expected to draw a crowd of 120,000, up from last year's 75,000, to its three main events: a street food fest, a series of dialogues with heritage food advocates and industry think tanks, and a Street Food Awards.
Across both traditional and social media platforms, the event reached a tracked audience of 41 million, according to figures released by the organisers.
"Good food shouldn't be expensive, it should be comforting, real and affordable," said K.F. Seetoh, the charismatic founder of Singapore-based
Makansutra
and creator of the Congress. "That's where the feeding frenzy happens and where a world of opportunities reside."
"It reminds what a plate of food can do for industry, tourism, your own culture and identity, social enterprise, education -- the list goes on, all because of one little plate of endless opportunities."
Most stalls sold upward of 1,000 portions per day, with one clocking 1,920. Here are eight of the most popular:
1. Malaysia: Assam Laksa
Assam Laksa is a spicy seafood and tamarind soup -- serious business in Malaysia, nowhere more so than in one of street food's great centers of Penang.
The secret heirloom recipe for the sambal -- spice mix -- is key in the dangerously good dish which won her the coveted Assam Laksa award in the battle of Penang Hawkers.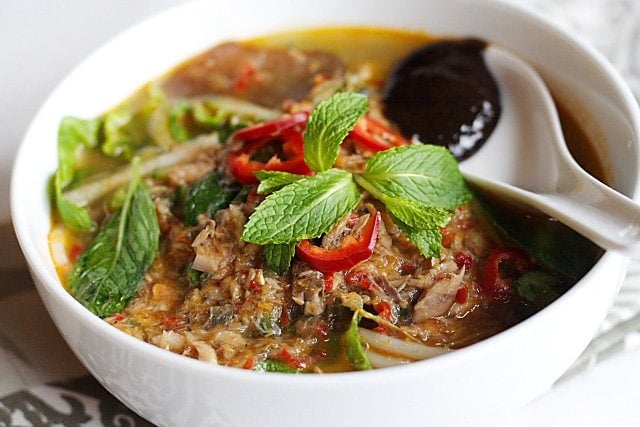 2. Indonesia: Sate Maranggi
During the Congress, the team from Sate Marrangi in Indonesia skewered a mind-blowing 125,000 sticks of satay over five days.
The region's signature dish involves marinated, diced beef grilled over charcoal and served with a deceptively fiery salad of chilli, vinegar and tomato.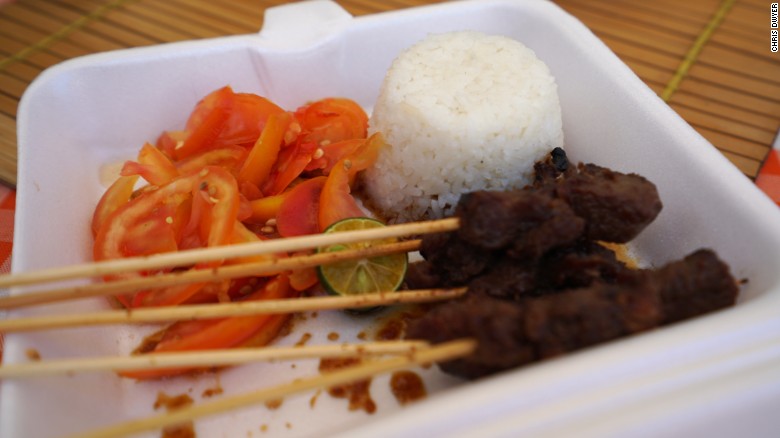 3. Thailand: Hoy Tord
Hoy tord or seafood omelet needs no introduction to fans of Thai food.
A mix of two types of flour, lime and water make the batter, fried gently with eggs and topped with seafood -- oysters, shrimp or squid -- along with cilantro, bean sprouts, scallions, pepper and a dash of fish sauce.
4. India: Hyderabadi Biryani
The word "biryani" may be derived from Persian, but India has been the most famous champion of this popular spiced rice dish with meat or vegetables.
Among many versions, the dish from Hyderabad stands out with its mix of basmati rice, chicken, yoghurt, lemon, masala spices, coriander leaves and fried onion.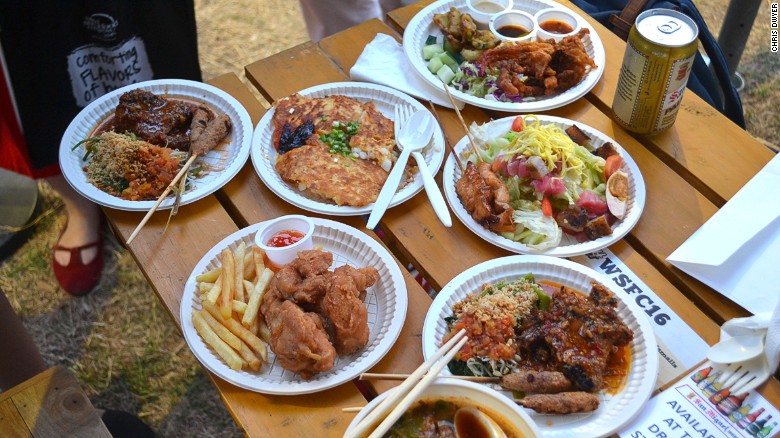 5. United States: Churros Sundae
The Churros Locos food truck from Portland, Oregon, was set up by Mexican-Americans Daniel Huerta and Isabel Sanchez. The owners maintain corporate day jobs alongside their passion for deep-fried dough sticks under ice cream, nuts and sprinkles.
6. Vietnam: Banh Xeo
It is a seafood pancakes with herbs and dip. Making Ban Xeo involves 100-year-old technique, which has been recognized by UNESCO, clay pots over a wood-burning fire.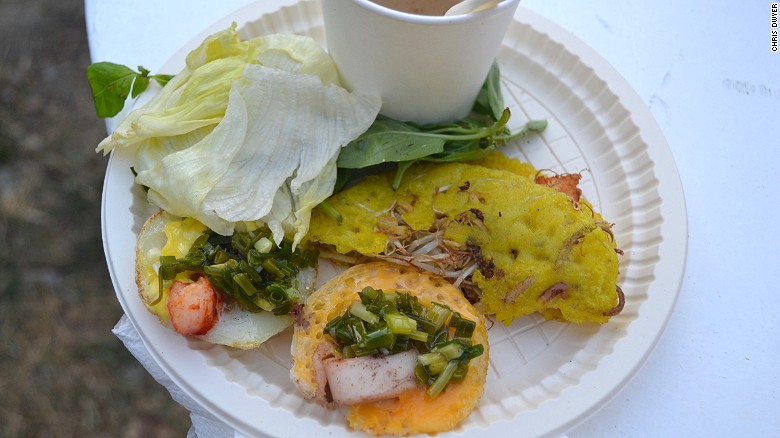 7. Singapore: Kway Chap
Congress founder K.F. Seetoh explained that street food in Singapore "is worth a billion dollars a year, an amazing economic driver keeping 40,000 Singaporeans in direct employment."
Melvin Chew is one of them, maintaining his family's 35-year-old stall selling kway chap, or pig offal, pork cuts and duck braised in soy served with noodle sheets.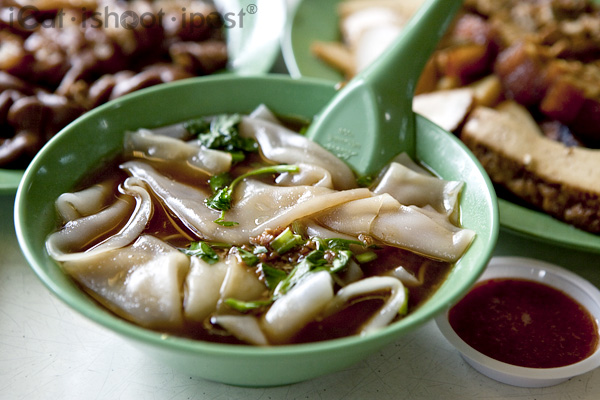 8. China: Zhu Hou Chicken
In China's southern province of Guangdong, salt-baked chicken is a frequent sight on tables.
Young chef Xu Jing Ye served his own rendition in Manila featuring a 120-year-old recipe for Foshan sauce, made with soybeans, sugar, sesame seeds and soy sauce.