Credit by Tallest Buildings© ALAMY
Frank Lloyd Wright once proposed The Illinois, a mile-high skyscraper set on the shore of Lake Michigan in Chicago, a towering giant of a building powered by atomic elevators. It's clear symbol of the current race to raise skylines around the world that Wright's vision from the '50s, yet to be realized, is coming closer and closer to reality.
Yeah, we need tall buildings.
A way to overcome the ongoing issue of running out of habitable land to develop for the growing numbers of human population is to build up. Building up would mean constructing a concrete city of buildings; the higher they are, the more job opportunities and living space there will be. This is probably why China is building many skyscrapers, where a majority of the buildings are amongst the tallest in the world.
This lists consists of 20 upcoming skyscrapers that you might be able to visit in the years to come. Construction of a number of these skyscrapers have started or are about to start, where some are estimated to be about 1 kilometer high.
Kingdom Tower (Jeddah, Saudi Arabia: 1,000 m)
The Kingdom Tower is set to erect in Jeddah as the centerpiece of the Kingdom City beside the Red Sea. It's imagined to be 1000 m tall with 200 floors, 160 of which will be occupiable. Lots of tests are ongoing to ensure that this marvel can be built.
- Wuhan Greenland Center (Wuhan, China: 636 m)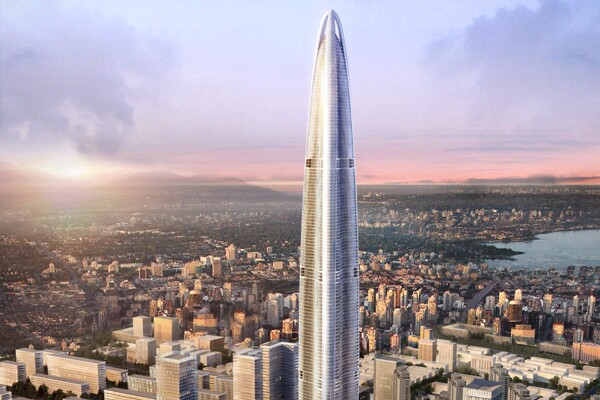 The Wuhan Greenland Center is designed to be aerodynamic and harness the strong winds that affect these tall buildings. It'll gather the wind and air around it to be used as heating or cooling, making it a very green-friendly 606 m skyscraper.
- Merdeka PNB118 (Kuala Lumpur, Malaysia: 630 m)
Property developers are hoping this crystalline tower becomes as much of a catalyst for the city as César Pelli's Petronas Towers, still the tallest twin structures in the world. This is a massive project for Australian firm Fender Katsalidis Architects, which has been attached to a series of tall towers in Melbourne.
- Ping An Finance Center (Shenzhen, China: 555 m)
Designed by Kohn Pedersen Fox, this huge stone-and-glass tower was being assembled at the prodigious rate of a floor every four days during peak construction periods. Initially expected to be completed in 2016, the topped out tower has been delayed until this year. The building has become a centerpiece of the city's central business district, as well as a lure for daredevil stunts
Goldin Finance 117 (Tianjin, China: 597 m)
Set to be the country's third tallest when finished and an example of the relentless pace of skyscraper development in China, this tower utilizes unique foundations and structural engineering, including especially slender pilings one meter in diameter that are dug 100 meters into the ground. Also called the Walking Stick, the building is capped by a diamond-shaped observation deck.
Baoneng Shenyang Global Financial Center (Shenyeng, China: 568 m)
Nicknamed the Pearl of the North, the 111-story, mixed-use skyscraper will feature a circular inset towards the apex as well as a luxury auto showroom towards the top floor and a smaller sister tower, both designed by Atkins.
- Lotte World Tower (Seoul, South Korea: 554 m )
Despite a rocky construction process that's seen a string of accidents galvanize the Korean media, this Seoul landmark is still on course to finish next fall. Designed by Kohn Pedersen Fox, the building, a cone of pale-colored glass, is supported by a grid of steel and concrete core.
- Tianjin CTF Finance Centre (Tianjin, China: 530 m)
As if to underscore the rate at which China is building supertalls, this is the second project for the city of Tianjin on this list. Designed by Skidmore, Owings & Merrill to meet LEED Gold standards, this gently sloping tower features a crystallized facade that accentuates the curves of the building's frame. There's rhyme and reason to those subtle bends and arches: along with strategically placed vents, the shape reduces "vortex shedding," which sharply decreases the wind forces impacting the tower.
China Zun Tower (Beijing, China: 537 m)
Modeled after a ceremonial "zun" vessel, a bronze or ceramic design meant to hold wine, this gently curving tower will soon rise over the new extension of Beijing's central business district. Designed by the international architecture firm Farrells, with engineering help by Arup, the unique, concave tower, split between office space, private club and an observation deck, provides additional high-rent space on the top floors and a dramatic lobby entrance on the ground floor. In addition to claiming the title of China's tallest building, the Zun will also be the tallest structure in a high seismic zone when its finished, relying on steel-concrete composite braces and a solid concrete core for stability.
Skyfame Center Landmark Tower (Nanning, China: 538 m)
Also known as the Tianyu Tower, this 108-story project hasn't released many official details, despite being on the CTBUH list. Some commenters on an older Skyscraper City discussion page where this photo was sourced have noted the building is named after the developer.
- Madinat al-Kabir Tower, Subiya, Kuwait (Kuwait city : 1,001 m)
The Mubarak al-Kabir Tower will be the 1001 m centerpiece of the upcoming City of Silk in Subiya, Kuwait. The entire city will include stadiums, residences, hotels and retail shops that are set to open sometime by 2020.
- Peruri 88, Jakarta, Indonesia (Jakarta : 400 m)
Jakarta is a crowded city that lacks greenery and living space. With this multi-tiered vertical city, the Peruri 88 will have apartments, hotels, offices, retail outlets, amphitheaters and roof parts that can accommodate sports and recreational activities.
Signature tower, Jakarta, Indonesia (638 m)
The Signature Tower set to erect in Jakarta is proposed to begin construction in 2014 and estimated to finish in the year 2020. It'll be 638 m tall with 111 storeys that will house an obvservatory, luxury hotel and mall as well as offices.
Lakhta Tower, St Petersburg, Russia (462 m)
The Lakhta Center will be the first supertall skyscraper in the city of St. Petersburg upon its planned completion in 2018. It'll have an educational complex, sports and leisure facilities, an outdoor amphitheater, offices and a hotel.
Source and reference :
wired.com
curbed.com
hongkiat.com
Proud
25%
Sad
50%
Excited
0%
Indifferent
0%
Inspired
0%
Amazed
25%