URBAN LIFE
Beyond
All Taller Than Petronas Towers, Future Tallest Buildings in Southeast Asia
According to The Global Tall Building Database of the CTBUH, the primary place to get all the latest news on tall buildings, urban development and sustainable construction from around the world, there are 100 Tallest Buildings in the World by Height to Architectural Top list in their database.
Plans underway to build Southeast Asia's tallest skyscrapers are really happening now and Seasia has compiled both under construction and proposed tallest buildings.
Let's see where they are located!
1. TRADEWINDS SQUARE TOWER A - 775M (KUALA LUMPUR, MALAYSIA)
Built at the heart of the vibrant city of Kuala Lumpur, Tradewinds Square will be the undoubted centerpiece and one of the most recognisable landmarks of the burgeoning metropolis.
Tradewinds Square, with its strategic location amidst Kuala Lumpur's numerous new infrastructure developments and its striking architectural elements, will be the nexus of the city's rapid modernisation.
2. JAKARTA SIGNATURE TOWER - 638M (JAKARTA, INDONESIA)
Signature Tower is a proposed 638m-high skyscraper that will be built in Jakarta, Indonesia. Designed by Smallwood, Reynolds, Stewart, Stewart and Stewart Associates, the tower is expected to be the tallest building in South East Asia upon its completion and the fifth tallest in the world.
Located in the Sudirman Central Business District, the tower will be the center piece of the area and will set a standard in luxury development in Indonesia.
3. MERDEKA PNB 118 - 682M (KUALA LUMPUR, MALAYSIA)
The 118-storey skyscraper will be Malaysia's tallest building and the world's third tallest on completion, which is expected to take place in 2018-2019. Set on a hill just south of the old town of Kuala Lumpur, it will serve as a residential, hotel and office space.
Permodalan Nasional Berhad (PNB), Malaysia's biggest fund management company, plans to build a 118-storey skyscraper in Kuala Lumpur that will surpass the height of the 88-storey Petronas Twin Towers, reported The Straits Times recently.
Dubbed Merdeka PNB118, the 682m-tall tower is expected to become the tallest building in the country and in Southeast Asia when it is completed by 2020.
In comparison, the 452m-tall twin towers, built during the administration of former PM Tun Dr Mahathir Mohamad, was the world's tallest building when it was finished in 1998.
The building will consist of 100 storeys of rentable space, including 80 storeys of office space, 12 storeys of hotel rooms, 5 storeys of hotel residences and a retail business centre.
4. RAMA IX SUPER POWER - 615M (BANGKOK, THAILAND)
It is a skyscraper in the Thailand's capital city currently under construction. It will be 615 m (2,018 ft) . When completed, it will be the tallest building in Thailand, a record which is now held by MahaNakhon.
5. THAI BOON ROONG TWIN TOWER -560M (PHNOM PENH, CAMBODIA)
Groundbreaking was broken in early March for this project, consisting of two 500-metre towers - in the Cambodian capital of Phnom Penh. The scheme's value has been reported by sources in the Cambodian media as either US$2 billion or US$3 billion.
6. PERTAMINA ENERGY TOWER - 530M (JAKARTA, INDONESIA)
The state-owned energy company, Pertamina, the "energy tower" aims to become a new landmark on the Indonesian capital's skyline. Once complete in 2020, the large-scale project will feature a 2,000-seat performing arts auditorium and exhibition pavilion, public mosque, and central energy plant in addition to the office tower.
Pertamina Energy Tower's iconic presence will stand as a model of sustainability and efficiency, as well as collaborative workplace design.
7. LANDMARK 81 - 462M (HO CHI MINH, VIETNAM)
Vincom Landmark 81 is a luxury, mixed-use tower being constructed in Ho Chi Minh City, Vietnam.
The grand tower will be unique in its luxurious facilities in Vietnam and be a symbol of growth and prosperity in the country. It will feature a hotel, residential apartments and retail space.
8. BANGKOK OBSERVATION TOWER - 459M (BANGKOK, THAILAND)
The tower will be the first in Bangkok to draw tourists to the capital. It will showcase royal projects of the late King Bhumibol Adulyadej among others to be on display.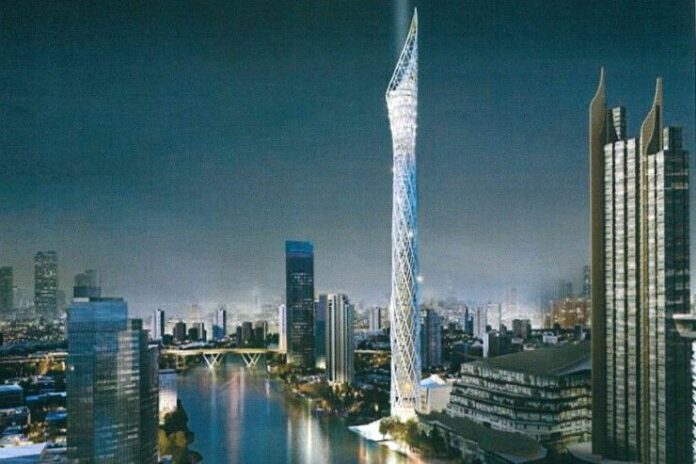 Source : The Skyscraper Centre
Proud
44%
Sad
10%
Excited
7%
Indifferent
11%
Inspired
3%
Amazed
26%