Credit by Hype MY | KLIA Departure
FUN FACTS
Beyond
Head to Head: Changi Airport vs Kuala Lumpur Int'l Airport
Airports play an important role in bringing in the crowd and is no longer confined to just providing superior infrastructure, competitive rates and extensive connections.
Airports have to market the destination as well with the primary target being the airline and the secondary target the traveler.
For those reasons, Seasia believes both 'gateways' of Singapore and Malaysia must have continuously performed their very best to compete in serving the airlines' business, in which both are also tourist getaways and business hubs.
For this round of Head to Head, Seasia team would love to gather the latest information and putting them side by side on how these two 'gateways' named Changi Airport and Kuala Lumpur International Airport (KLIA) in the region placed themselves on the world map.
CHANGI AIRPORT - SINCE 1981
1. Changi Airport replaced Paya Lebar Airport as Singapore's new international airport on 1 July 1981.
2. It has also undergone numerous expansions, resulting in the extension to Terminal 1 in 2000, and the opening of the Budget Terminal and Terminal 3 in 2006 and 2008 respectively.
3. It houses the first butterfly garden to be found in an airport. It features an abundance of flowering plants and a six-meter-tall waterfall and houses 1,000 species of butterflies.
4. According to the Telegraph UK, those using Terminal 1 can console themselves with a cactus garden (featuring 40 species and a cocktail bar), a rooftop swimming pool and jacuzzi (from which you can watch planes taking off), a water lily garden, and the Kinetic Rain art installation featuring 1,216 polished copper raindrops.
5. Changi has grown steadily, handling 23.8 million passengers in 1998, 30.4 million in 2004, 42 million in 2010, and 58.7 million in last year (2016).
6. More than 70 airlines operate flights to or from Changi, including long established carriers like Air France, Air New Zealand, Delta, Emirates and KLM, as well as lesser-known ones like Druk, Scoot, Firefly and Air Niugini (based in Papua New Guinea)
7. Changi's most popular route is to Jakarta, followed by Kuala Lumpur and Bangkok. New destinations for 2016 included Amritsar and Jaipur (India), Urumqi (China), Canberra (Australia), Wellington (New Zealand), Nadi (Fiji), Sapporo (Japan) and Dusseldorf (Germany).
8. For the fifth consecutive year, Singapore's Changi Airport was voted the World's Best Airport at the 2017 World Airport Awards, as rated by the international air transport rating organisation, Skytrax. It also won Best Airport in Asia, and Best Airport for Leisure Amenities, which it has been winning for eight years.
9. Changi Airport is on track to open its new Terminal 4 (T4) later this year with nine airlines, including AirAsia Group, moving their operations there. Besides AirAsia Group, Cathay Pacific, Cebu Pacific, Korean Air, Spring Airlines and Vietnam Airlines will also move to T4.
10. Although T4 just half the size of Terminal 3 (T3), the planners and designers of T4 have managed to deliver a terminal that will have a capacity of 16 million passenger movements a year, two-thirds that of T3.


KUALA LUMPUR INTERNATIONAL AIRPORT (KLIA) - SINCE 1998
1. KL International Airport, the premier gateway to Malaysia, opened in June 1998 with the capacity to handle as many as 35 million passengers and 1.2 million tonnes of cargo a year.
2. KLIA is now recognized as one of Southeast Asia's leading aviation hubs offering flight connections on 57 carriers to 126 destinations. The airport is the only one in the region to offer three independent runways.
3. Malaysia Airlines, the country's national carrier operates a total of 71 flights per week from Kota Kinabalu (east Malaysian state Sabah's capital city) to Kuala Lumpur – its highest frequency and capacity route overall, closely followed by the return journey with 69 flights per week. For international flights, Malaysia Airlines operates 68 flights from Kuala Lumpur to Singapore, with 10,880 seats available.
4. Quoting the Malaysia Airports Holding Berhad (MAHB) report, 118.5 million passengers pass through its airports including Istanbul's Sabiha Gökçen International Airport (SGIA), up 5.7% from 2015. International traffic recorded 52.8 million passengers, a year-on-year (y-o-y) increase of 6.1% while domestic traffic recorded 65.7 million passenger movements with a 5.4% growth.
5. KLIA's design, which marries high-tech vision with Malaysian culture, was the brainchild of acclaimed Japanese architect Kisho Kurokawa. The airport was also built according to an "airport in the forest, forest in the airport" concept and boasts displays of tropical greenery both inside and outside its buildings.
6. Combined with klia2, which opened in 2014, KLIA is now the Next Generation Hub, in the heart of Asean – a geographical zone of some 620 million people all within flying times of between four and five hours.
7. KLIA and klia2, the world's largest dedicated low-cost carrier terminal, in 2014, offer long and short-haul capability with facilities that integrate both full-service and low-cost carrier operations.
8. KLIA won the Large Airport of the Year at the CAPA Awards for Excellence in Asia Pacific Aviation and the world's number two airport (40 – 50 million passengers per annum) in the Skytrax 2014 World Airport Awards. Readers of SmartTravelAsia.com also voted KLIA the third best airport worldwide in 2013. KLIA shared the third spot with the more popular airport, the Incheon International Airport, Korea.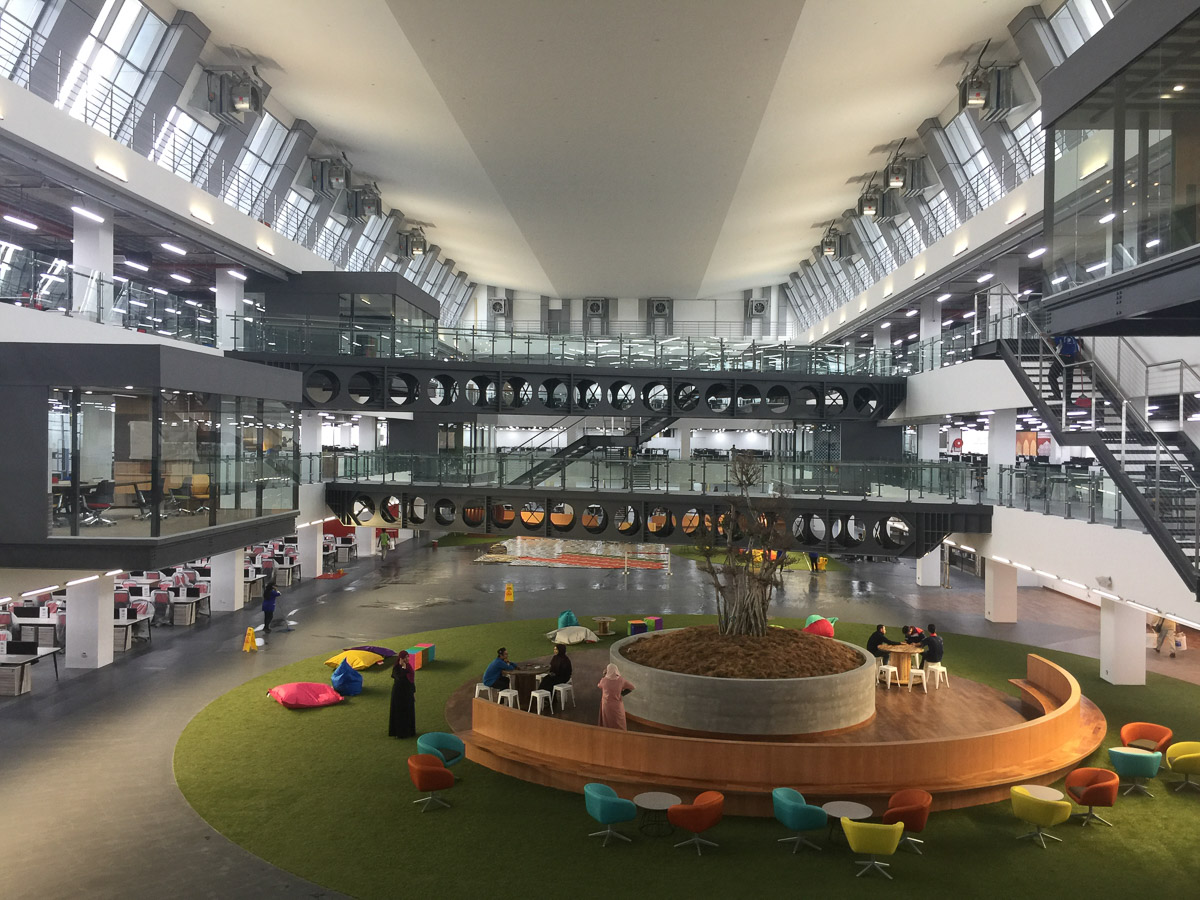 9. Standing at 141.3 meters, klia2 air traffic control tower has been recognized as the tallest in the world by the Guinness World Record. It is higher than the control tower of Suvarnabhumi International Airport in Thailand (132.2 meters).
10. According to Malaysia's The Star, KLIA is also the first airport in the world with a Green Globe 21 certificate. Green Globe is the global benchmarking, certification and improvement system for sustainable travel and tourism, based on Agenda 21 and Principles of Sustainable Development endorsed at the United Nations Earth Summit in Rio de Janeiro, Brazil.
Source: Malaysia Airports, The Telegraph UK, TheStar Online
Proud
56%
Sad
8%
Excited
0%
Indifferent
0%
Inspired
4%
Amazed
32%