Credit by Laborers work at a construction site for an office building in Singapore © Asia Times
ECONOMY
Beyond
Japan vs China Investment in Southeast Asia. We See the Winner.
Asia's two biggest economies, Japan and China are jostling to expand influence in Southeast Asia, one of the world's brightest economic spots and home to half a billion people.
Governments from glitzy Singapore to communist Vietnam are building airports, tollways and mass rapid transit to attract investment and create jobs.
Based on BMI Research, Bloomberg recently reported although China may steal all the headlines when it comes to its infrastructure push across Southeast Asia, but the data shows differently in which Japan is still well ahead in funding projects in the region.
The report added infrastructure is increasingly among the region's main growth engines.
Indonesia boasts a pipeline of over 250 projects, while the Philippines plans to spend $180 billion on rails, roads and airports. Singapore is doubling the size of its mass transit system.
To reduce strain on government budgets, countries are turning to their richer neighbors, who are only too willing to strike deals.
The following charts show where the region is in its infrastructure push:
Meanwhile, herewith are the number of projects per country: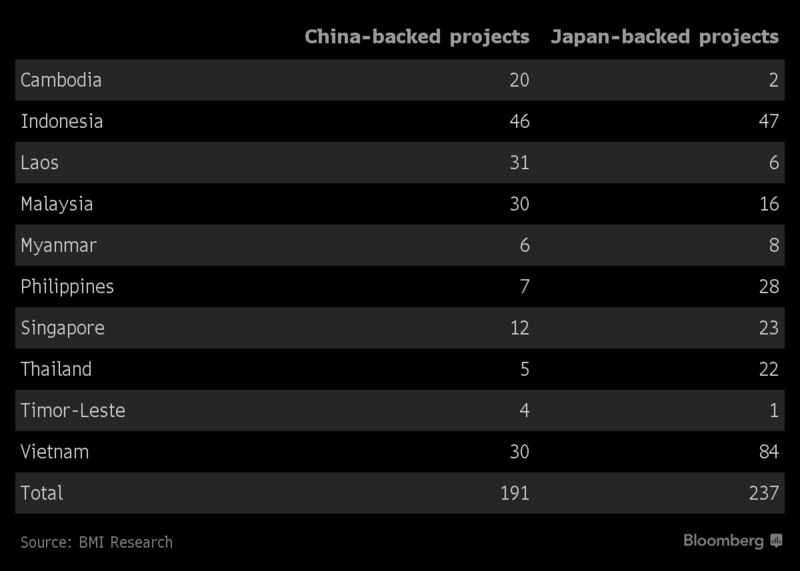 .. and some of the major projects are as follow:
China-backed projects
| | | |
| --- | --- | --- |
| Country | Name | Value (US$) |
| Indonesia | Kayan River Hydropower Project, North Kalimantan | 17.8 billion |
| Malaysia | East Coast Rail Link | 12.7 billion |
| Malaysia | Melaka Gateway Project, Melaka | 9.9 billion |
Japan-backed projects
| | | |
| --- | --- | --- |
| Country | Name | Value (US$) |
| Philippines | Makati-Pasay-Taguig Mass Transit System, Metro Manila | 8 billion |
| Indonesia | Train III Project, Tangguh LNG Facility, Special Region of West Papua | 8 billion |
| Vietnam | Long Thanh International Airport Project, Phase 1, Dong Nai Province | 5.2 billion |
The race is far from over. Government finances aren't strong enough to fund all the projects, HSBC Holdings Plc said, and China can catch up.
Beijing sealing a series of infrastructure deals under its Belt and Road Initiative in the past two years is a good sign.

Source : Bloomberg
Proud
25%
Sad
6%
Excited
50%
Indifferent
13%
Inspired
0%
Amazed
6%