Bali is one of the most popular Southeast Asian beach destinations for those based in Singapore, and is just a three-hour flight away.
But in the time it takes for you to fly from Changi Airport to Denpasar, you could visit Telunas Resorts, a paradise on a private island, without having to worry about traffic jams or tourist crowds.
A place to disconnect just 50km south of Singapore, and according to The Culture Trip, it is touted as The Most Relaxing Island in the region. Southeast Asia has no lack of islands to explore, but as more tourists start to discover these beautiful locations, these sanctuaries begin losing the tranquil atmosphere that made them so attractive in the first place. Just getting out of Denpasar airport or driving around Kuta and Seminyak can be a nightmare in terms of traffic.
Despite this, just south of Singapore are a scattered bunch of approximately 3,200 Indonesian islands known collectively as the Riau Islands. It is here, on the southwestern tip of Pulau Sugi, that you will find Telunas Resorts.
Consisting of Telunas Beach, as well as the tiny Telunas Private Island just across the water, the resort is truly secluded, surrounded by green mangrove forests and the blue ocean.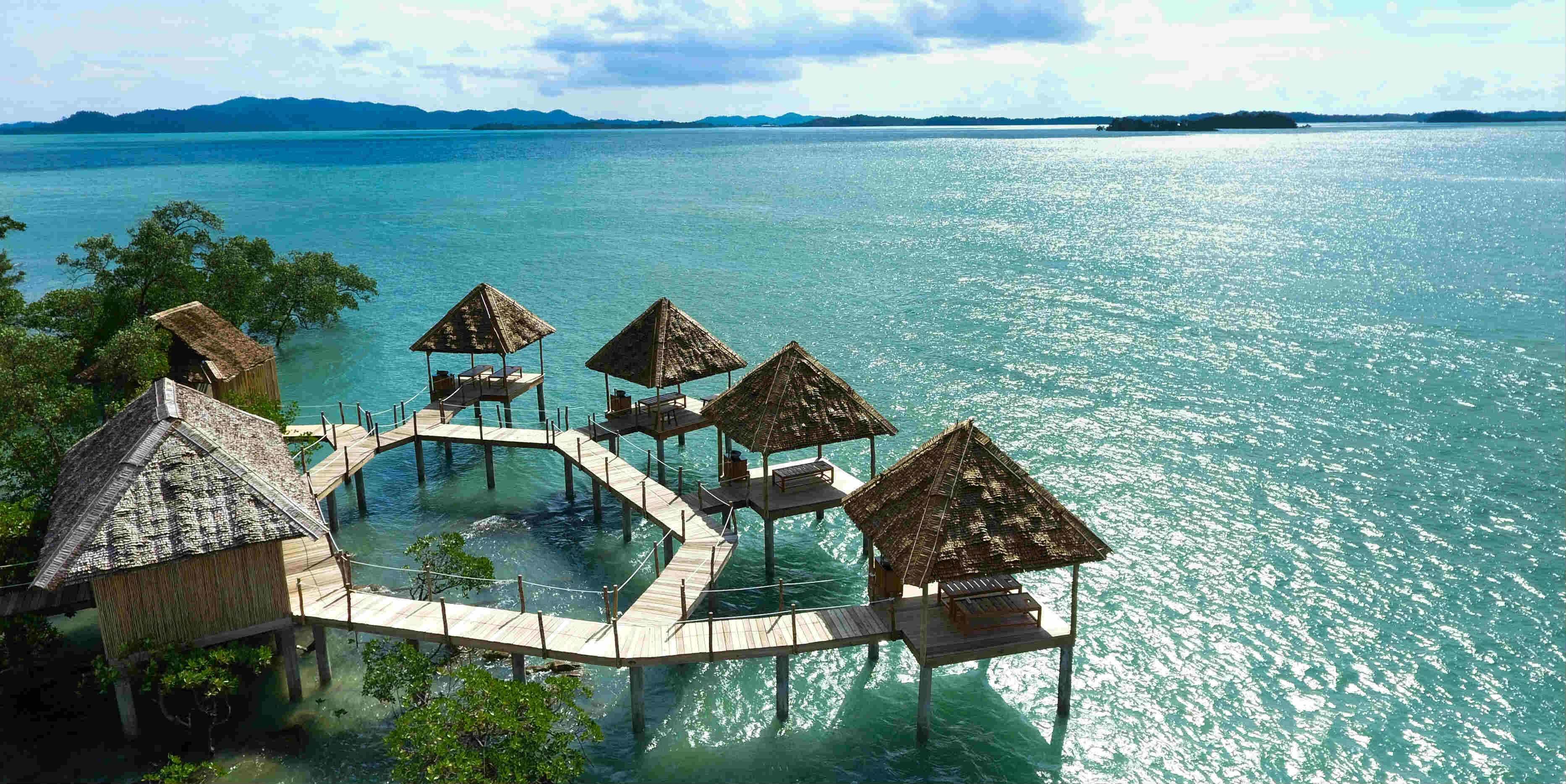 Telunas Beach was originally built in 2004 and resembles some of the traditional wooden offshore platforms employed by fishermen around this region called kelongs.
Most of the resort is built entirely above the water—each room or chalet is an individual thatched-roof hut connected by wooden plank gangways with a communal dining area and welcome jetty.
The Telunas Beach chalet room is quite spacious and is built to accommodate small families or groups of friends, with a queen-size bed facing the balcony and a smaller nook with a bunk bed. The bathroom is surprisingly modern, tiled and equipped with hot water. To complete the look, the space comes with a hammock—perfect for those sunset views.
Telunas Resorts makes a strong effort to be sustainable and environmentally friendly throughout its premises—both resorts do not have air-conditioning, despite the tropical humidity, but are kept cool by fans and the rooms being positioned over the water. Bath amenities are stored in local hand-made ceramic containers and drinking water is stored in reusable glass bottles and dispensers. The beach is located right next to the resort and where the recreation center is as well. You can borrow a kayak or a paddleboard, play beach volleyball or a strange sort of table tennis that involves a mini trampoline instead of a table. For those who really want to chill out and relax, settle into your hammock or deck chair, or wade into the crystal clear waters along the gently sloping coastline.
Those with a little more time would do well to plan for some of the activities when you book or a few days before your visit, so as to give the resort time to prepare. Popular activities include a short boat ride and longer jungle hike to get to a waterfall, or having a Malay lunch in a local village nearby. At Telunas Private Island, all activities are included in the price, however there is a charge for those staying at the resort.
One thing you should check before you book your stay at Telunas Beach Resort is who the other guests might be. Given the isolation of the beach resort, it was remarkably tranquil for the most part, although it is worth bearing in mind that the resort often plays host to corporate retreats and school groups, so it could be a little loud at times.
An exclusive private island getaway
For those who want true serenity, the newer Telunas Private Island, built in 2014, provides a much more exclusive experience. There are just 15 sea villas built off its shore, and it can be so quiet at times that all you hear are the waves and occasionally, the sounds from the beach resort carrying across the water.
Those who enjoy a more luxurious experience will prefer the Telunas Private Island villa, which has a spacious living room area, a loft bedroom for those with children or groups and a very comfortable sunbed right on your balcony, all east-facing and perfect for watching the sunrise if the weather permits.
Private island guests are welcome to hop over to the beach resort if they want to, but also enjoy exclusive amenities on the island, like the newly built over-water spa. There resort also offers massages, which you can enjoy in an open-air pavilion, or in the comfort of your own villa.
While Telunas Beach is home to a larger and more open beach, the private island resort does have a lovely freshwater pool with an infinity edge that's pretty nice to lounge in. The neighbouring Sand Bar, which has a white sandy floor mimicking a beach-side bar, serves custom cocktails, and does make up a little for the smaller beach.
The recreation center here provides similar activities to Telunas Beach, but the more intrepid traveler should take a short walk along the island's nature trail to the opposite side, where there is a larger and more secluded beach. Depending on the season, you might even spot turtles in the turtle hatchery as well. If you're keen to explore, don't forget to take mosquito spray along with you; luckily, a bottle of repellent is provided in the villa to help you keep the pesky bugs away.
Source : https://theculturetrip.com/asia/indonesia/articles/skip-the-bali-crowds-for-this-tranquil-indonesian-private-island-instead/