Credit by Thai soldiers relay electric cable deep into the Tham Luang cave at the Khun Nam Nang Non Forest Park in Chiang Rai on June 26, 2018 during a rescue © Inc
Universal Pictures is developing a movie about July's cave rescue in Thailand, with Michael De Luca and Dana Brunetti on board to produce.
The studio announced on Monday that it has acquired the life rights of Coach Ekkapol Chantawong, Dr Richard Harris, Dr Craig Challen, and the players on the Wild Boar soccer team.
CAA agent Matt DelPiano led a team effort and travelled to Thailand and Australia to secure the rights for all involved.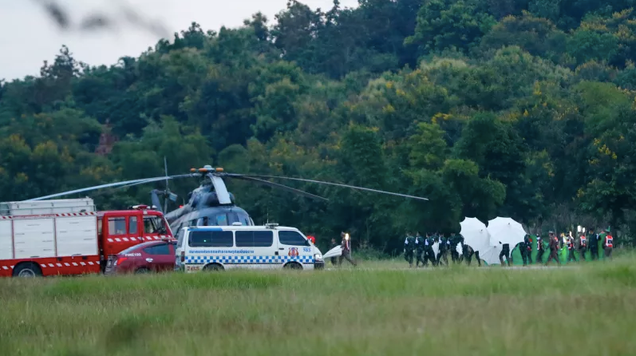 De Luca will produce for his eponymous production company, alongside Brunetti for his newly launched Cavalry Media banner. De Luca and Brunetti have collaborated previously on the "Fifty Shades of Grey" franchise, "Captain Phillips," and "The Social Network."
"Like many who watched the events of the rescue mission unfold earlier this year, we were in awe of the divers' heroic efforts and relieved when they were able to bring the entire soccer team and their coach to safety. We're excited for the opportunity to tell this amazing story with Universal," De Luca and Brunetti said in a joint statement.
The near three-week ordeal prompted an international rescue effort.
The 12th boy and his coach were the last of the team to be rescued on July 10. The team became trapped on June 23 when rising floodwater confined them deep inside the cave.
"Crazy Rich Asians" director Jon M. Chu and Ivanhoe Pictures announced shortly after the rescue was completed that they were teaming up on a movie about the operation.
Pure Flix Entertainment also announced in July that it was seeking the movie rights to the mission. Thai government sources said in July that six films were being prepared about the mission.
Source : https://variety.com/2018/film/news/thai-cave-rescue-movie-universal-1202944116/
Proud
50%
Sad
0%
Excited
50%
Indifferent
0%
Inspired
0%
Amazed
0%