Credit by Featured Image Caption © Source
Travel in 2018 was all about far-flung, unexpected experiences — and 2019 is no different. But rediscovering the world's must-sees, delving deeper into already-trendy destinations, and visiting countries worthy (and in need) of tourism are only some of the ways to travel well this year.
Sometimes the new year is not all about novelty, and travel in 2019 will require taking another look at destinations already on your radar.
Here are 19 places to visit in 2019 -- whether you're looking to adventure, or indulge in some much needed self-care, according to online portal shondaland.com.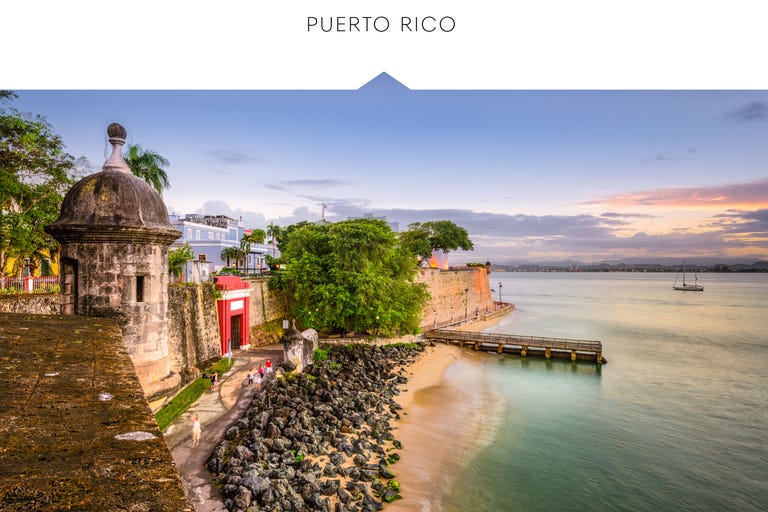 In the wake of the devastation of Hurricane Maria, this destination once frequented by U.S. travelers for its abundance of culture, diversity of landscape, and luxury hotels is making a comeback.
Must-visit properties have taken the opportunity to rebuild as a way to revamp, making improvements to their offerings and investments in their rooms and grounds. Dorado Beach, a Ritz-Carlton Reserve, has updated over 100 guest rooms, and the St. Regis Bahia Beach Resort underwent a $60 million renovation, which included the update of 139 rooms and suites.
The historic El San Juan Hotel restored some its oceanfront villas and grounds, after a $65 million renovation pre-Maria.
Another reason to fly down, aside from the super-luxe resorts? You might just get to see the show you've been dying to in New York City, but haven't managed to score tickets to Lin-Manuel Miranda has taken residence in San Juan from January 8-23 for a fundraising tour of Hamilton at the Centro de Bellas Artes Luis A. Ferré, reprising his original role in the award-winning musical.
In only 24 performances, the lofty $5,000 ticket price will be donated to launch the Flamoyan Arts Fund, to support the arts and arts education community in Puerto Rico.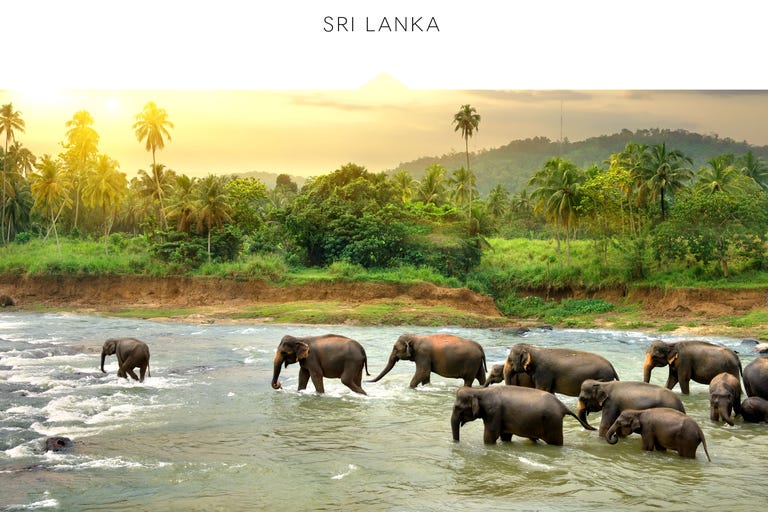 What's old is new again, and Sri Lanka is case-in-point. Dubbed as one of our places to go in 2017 given its rich mix of cultures, religions, natural wonders, and more -- this hub of wildlife, otherworldly beaches, and stunning temples is also a paradise for foodies, surfers, adventure-seekers, and the wellness-obsessed.
Time well spent in Sri Lanka is all about balance. Spend days enjoying the surf and the country's lush beaches, and follow up lazy days with trips to Udawalawe National Park, hikes to World's End, and trips to the country's endless array of historic ruins and temples.
A vast array of luxury hotels and tented camps, destination spas, and to-die-for restaurants make this destination ideal for those looking to relax and reboot before (or after) activities with an ample dose of history and adventure.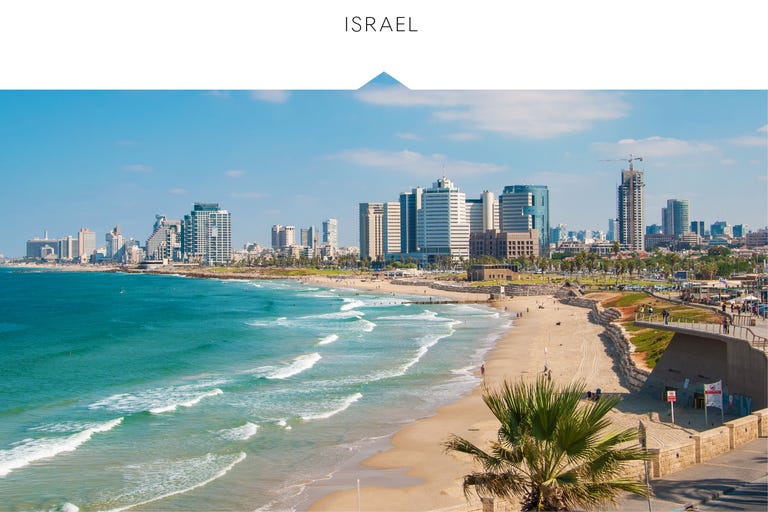 This small but dynamic destination has been on our best list for three years running – and for good reason. What was once viewed as a beachfront city destination, perfect for foodies with a side of historic tours (Tel Aviv + Jerusalem) — has now going primetime, according to luxury trip planner, Embark Beyond, a Virtuoso Agency.
"Iconic brands are bringing serious sophistication to this fascinating country," says Embark founder, Jack Ezon. "Tel Aviv has become a cool capital of the world over the past 5 years, with fantastic food, incredible nightlife, and a unique joie de vivre. Joining the game-changing Ritz-Carlton Herzliya, Setai, and The Norman in Tel Aviv, The Jaffa, an oceanfront resort by Luxury Collection, will open in 2019 on the edge of Tel Aviv in the artist-laden, charming, cobblestone alleyways of Jaffa."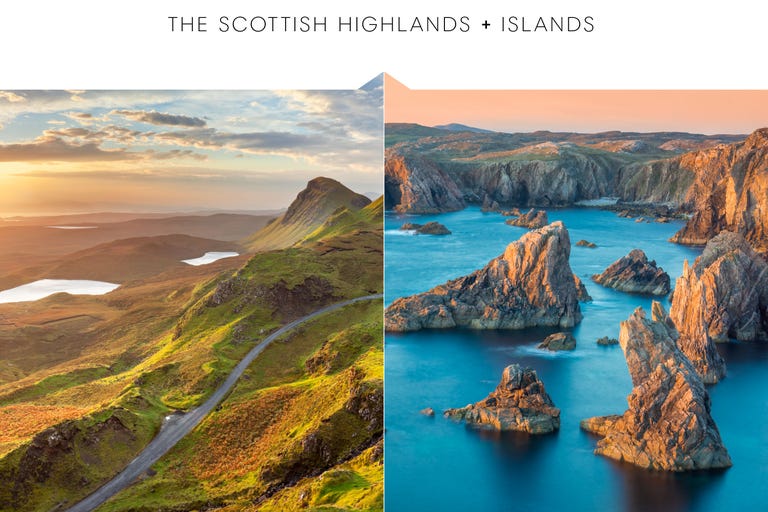 The British countryside and Ireland have been on our minds for years, and they still are – especially with the new opening of Heckfield Place, along with the latest royal weddings in Windsor, and the abundance of castles like Ashford Castle, Ballyfin, and Adare Manor. However, it's Scotland's untapped landscapes that peaked our interest for 2019, with Mary Queen of Scots, starring Margot Robbie and Saoirse Ronan, serving as the ideal advertisement for Scotland's lush landscapes.
Like with Ireland, this region isn't only about gorgeous sites, vistas, castle tours, and walks along the West Highland Way; it's also about whiskey. Distilleries are part-and-parcel of what makes the Highlands a unique experience, with a boom of the country's spirits culture taking place in recent years (think 20+ new distilleries and dozens of staples that have been around since the 1900's).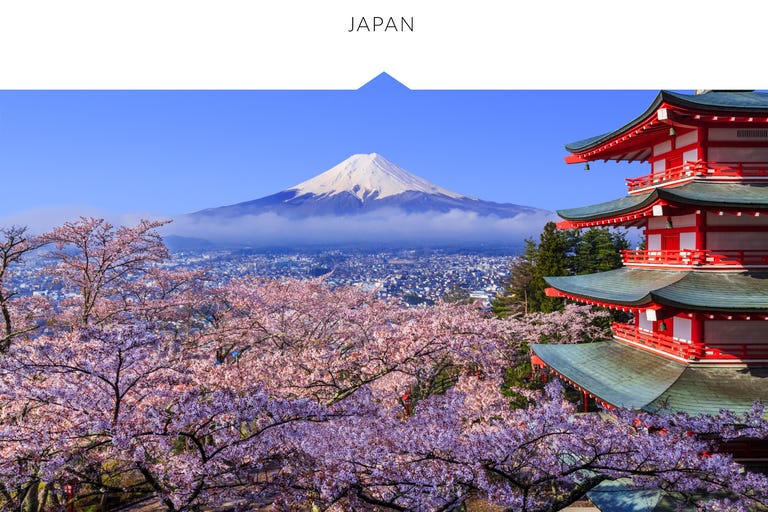 Japan is another destination du jour that's likely been raved about by your globetrotting friends — but there's much more to be discovered. Let's start with the must-sees: The bustling Tokyo and the spiritual and stunning Kyoto still aren't to be missed.
Tokyo is playing host to the Summer Olympics in 2020, which will transform this destination. Rather than get jumbled into the pre-Olympics tourist trap (the Japan Times reported an estimate of 40 million additional tourists to the city for 2020), head to Tokyo in 2019 to take advantage of all the pre-event updates without the crowds.
While AMAN Tokyo is undoubtedly one of the best hotels in the world, Hoshinoya is an authentic experience as well. And in Kyoto, a new ACE Hotel makes it easier to choose where to stay should you be looking for familiarity after nights spent at a traditional ryokan.
As for the undiscovered, BAZAAR.com contributor and co-founder of luxury travel firm Black Tomato, Tom Marchant, is dubbing Tohoku a must visit for the new year. "Japan continues to fascinate and entice culturally inquisitive travelers; Only 90 minutes north-east of Tokyo, Tohoku offers incredibly varied natural landscapes perfect for hiking, and even skiing in the winter.
With colder weather, Tohoku is a little known gem for experiencing Cherry Blossom season for longer, and without the crowds of Kyoto and Tokyo. History buffs can visit the village of Kakunodate that's home to Samurai legends and artisan workshops."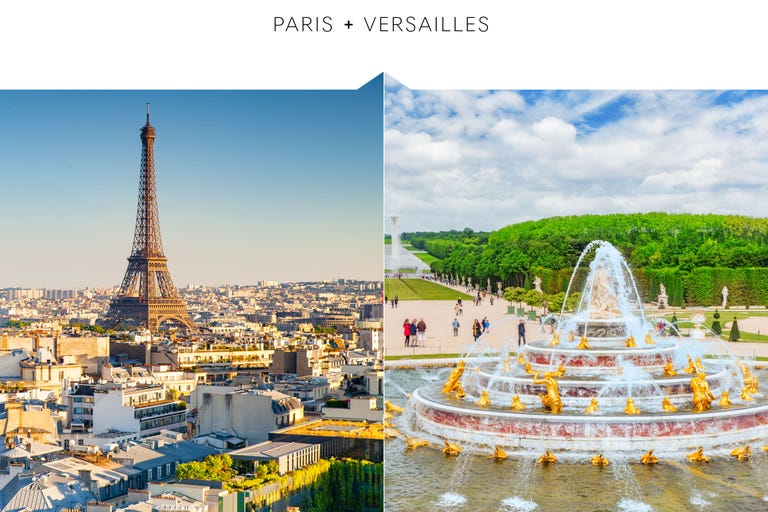 Yes, Paris. This year's list includes key cities celebrating milestones, and featuring never-before-seen-cultural developments. The fashion capital of the world will be home to the Gabrielle Chanel Rooms of the Palais Galliera this year, with over 200,000 garments on showcase from the heritage house, along with other brands.
Another addition to the bevy of museums in the City of Light? The Pinault Collection, where thousands of works from the personal collection of François Pinault, the founder of Kering, will be on display at the Bourse de Commerce.
As for hotels, the historic and super-chic Hotel de Crillon, a Rosewood Hotel should be at the top of your list, along with boutique hotel, La Reserve. If you're looking to skip the regal hotels that abound in Paris, try and snag a room at the new J.K. Place, which is bringing its Italian-chic flair to the Left Bank, opposite the Musée D'Orsay.
Lastly, make Versailles more than just a day trio, with a stay at the new Grand Hotel d'Chateau Versailles opening in the summer. Per Ezon at Embark, "Situated in three wings of the actual Chateau and with just 15 rooms, the hotel faces the L'Orangerie and will open complete with an Alaine Ducasse restaurant. Imagine having the chateau virtually to yourself."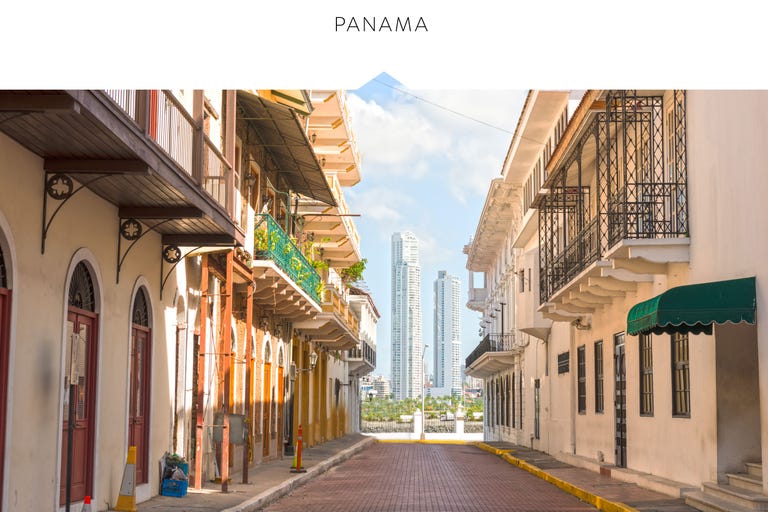 How is Panama still under the radar? The in-the-know travelers who've already had the chance to embrace this country's tropical climate, lush rainforests, white-sand beaches, and vibrant culture aren't sure why. Panama City celebrates its 500th anniversary in 2019, and the year promises to be filled with epic parties to rejoice.
As for where to stay, two new resorts worth noting are popping up on the west coast: Isla Palenque in the Gulf of Chiriquí (think small, with only eight casitas and one large villa on 400-acres) and Islas Secas, an equally-sized eco-resort and reserve of nine bungalows.
Per Embark Beyond, "This new private island resort is the first of its kind, bringing exclusive eco-adventure opportunities for explorers looking for unique marine adventures in a virtually untouched 16-island archipelago, shared with up to 13 other guests, bringing a new level of experience to the country's beautiful coastline."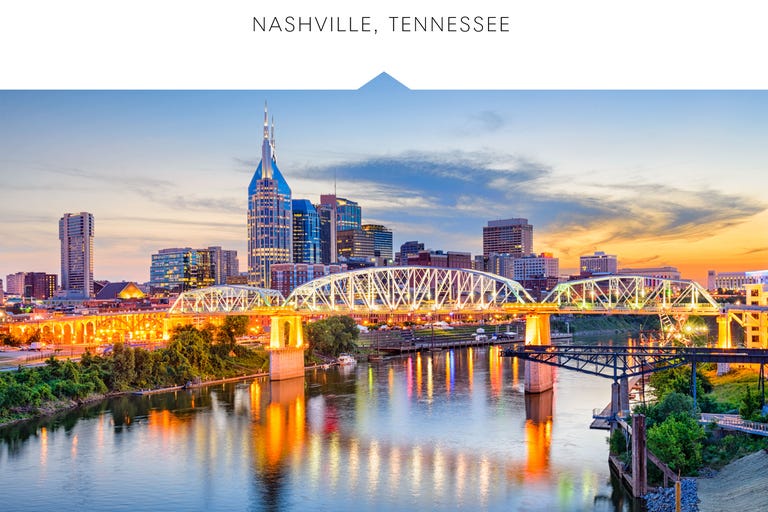 In recent years, southern cities like Charleston, Savannah, Austin, and Houston have been on the radar for domestic travel, taking the place of chic metropolises like Los Angeles, Miami, and New York City. In 2019, big cities are making a comeback — and Nashville is the happy medium between the gentlemanly ease of the south and the bustle of the east coast.
This town, to be expected, is all about music and nightlife — and an up-and-coming hotel scene has emerged to cater to the crowds looking for a long weekend away.
The Hermitage Hotel is a regal staple, where one almost feels that time has been turned back to a more glamorous era. But the cool kids are gravitating towards the quaint accommodation, like The Germantown Inn, a house built in 1865 restored into a chic, warm, home-away-from-home.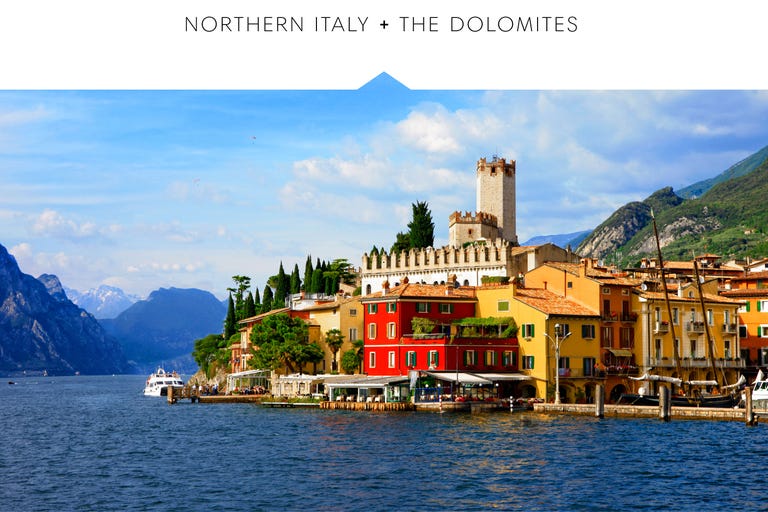 Italy is always a good idea. Northern Italy -- from Lake Como to Modena, Venice to Verona -- has become a prime spot for high season travel (June-October is magical here).
This year, the Venice Biennale exhibition is back, and this year marks the 500th anniversary of the passing of Leonardo di Vinci — making 2019 prime time for art lovers to visit. Lake Como is only 45 minutes outside Milan with perfect properties like The Grand Hotel Tremezzoon offer.
This spring, The Mandarin Oriental will open its doors on the lake, offering new, modern appointments in a city where gilded everything, hand-painted frescoes, and 15th-16th-century design reigns supreme.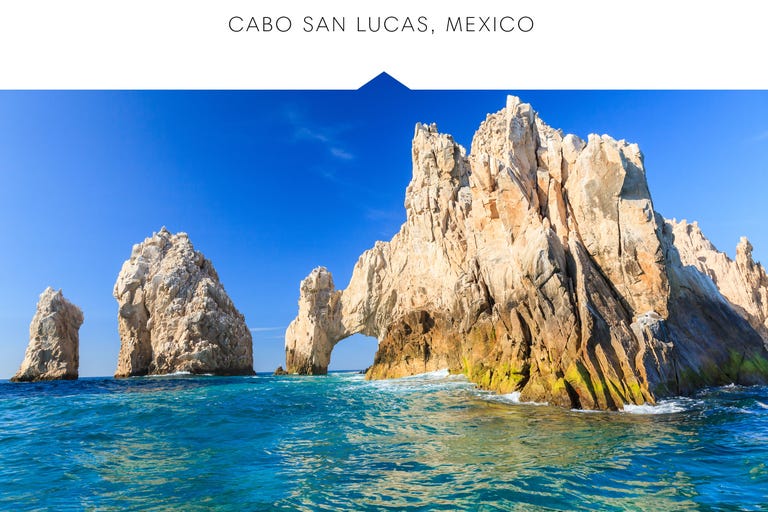 This part of the world was never a bad idea, but Cabo San Lucas has undergone a renaissance in the lead up to 2019 (plus more to come this year), with more new and updated luxury hotel offerings than ever before.
With the beaches virtually un-swimmable in Cabo due to the harsh surf, where you stay is key. An oceanfront Ritz-Carlton Reserve, Zadún, will open this coming March, Solaz Los Cabos, a Luxury Collection Resort opened its doors in late 2018, and the much-anticipated 1 Hotel & Homes will land in Cabo this year, ideal for super-chic, trendy, eco-loving travelers. When you aren't lounging by the pool, enjoying some water sports, or horseback riding on the beach, dine out at the charming Los Tres Gallos or Edith's.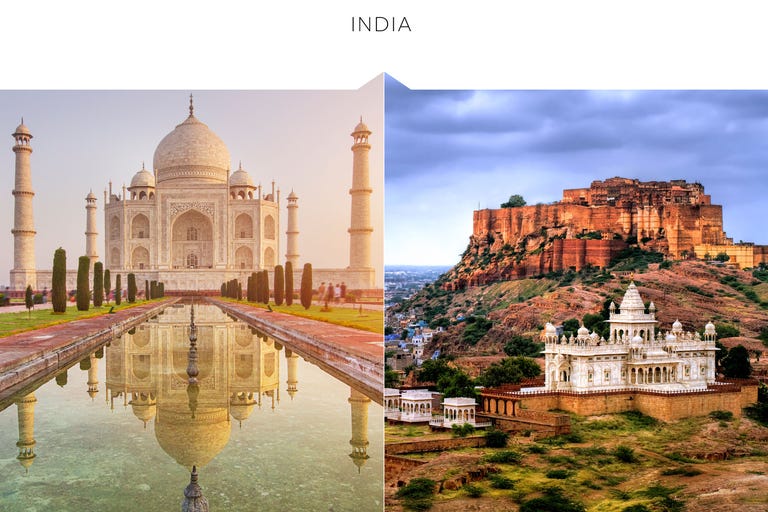 "This year marks 150 years since the birth of Gandhi, the father of the nation, making it a historic year to visit," notes Black Tomato's Tom Marchant. "Delta is set to resume their direct flight to Mumbai in 2019, convenient for domestic flights connecting on to more diverse and off-the-grid parts of the country."
First-timers should plan for a stop in Agra to view the Taj Mahal at sunrise when it's at its least populated (perhaps after a night spent at the Oberoi Amarvilas or the ITC Mughal) and a jaunt in Jaipur and Udaipur, with a stay at the Taj Lake Palace.
Another standout property, the Taj Umaid Bhawan Palace in Jodhpur, was the site of Priyanka Chopra and Nick Jonas' epic week-long wedding (pictured right). Aside from the celeb-approved site, head into the blue city of Jodhpur, where streets and structures of the most stunning shades make for one of the most breathtaking parts of a vast and vibrant country.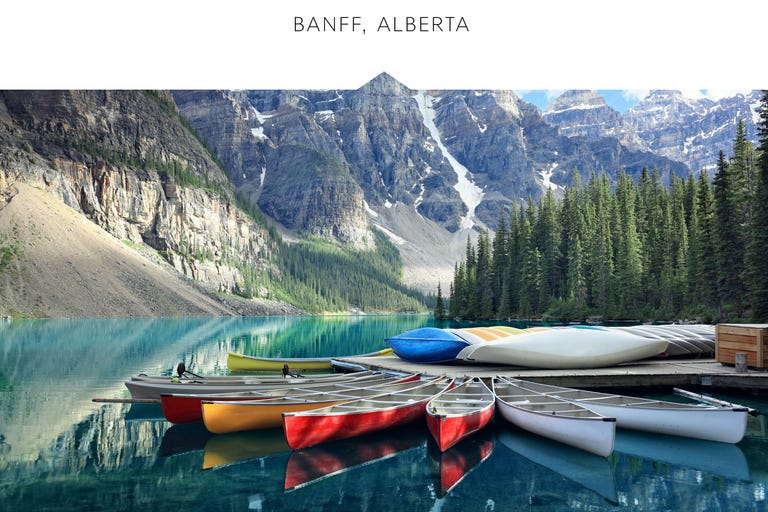 For lovers of the freshest air and the great outdoors, there may be no better place than Alberta, Canada. The province is known for perfect, powdery skiing like no other, and hikes that should put Albera on both your summer and winter travel bucket lists. Off the slopes, the new Royal Alberta Museum in Edmonton is a way to get out of the cold. And after a day on the slopes, hit the spa at the Fairmont Banff Spring's Willow Stream Spa.
Make a point of visiting Banff National Park, where you might just spot a bison. Before June 2018, they had not been seen in the area for over a century, but a herd of 31 of themwere released in the park this past June.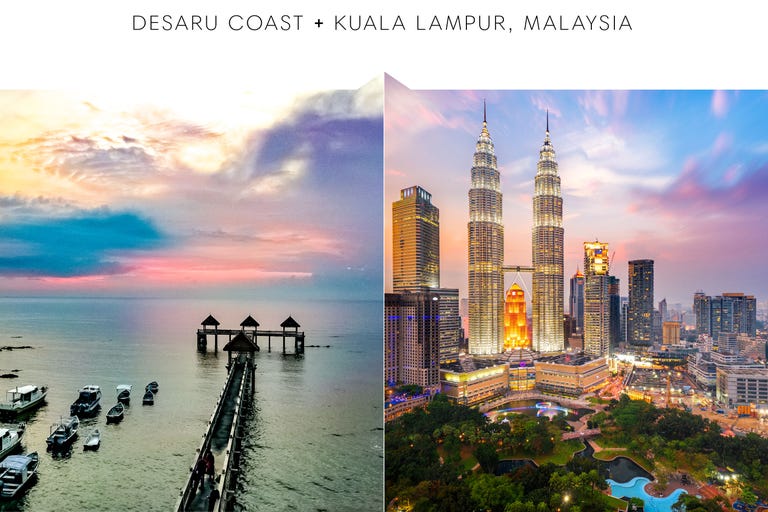 While this year's hit, Crazy Rich Asians, was filmed mostly in Singapore, this is the destination for those who want to spend some time living like Nick, Eleanor, and Astrid. Start in the city: Kuala Lumpur is catching up to the luxury hotel and dining scenes once only associated with Singapore and Hong Kong. The city welcomed a Four Seasons Hotel in 2018 and will be home to Exchange 106 this year in its financial district, the tallest building in Southeast Asia. The food scene here does not disappoint either — nor does the shopping -- with staples from Singapore, like French bistro Saint Pierre, opening their doors in KL.
Langkawi (a less than 90 minute flight from Kuala Lumpur) was the go-to in luxe relaxation in the past, given the stunning overwater spa and bungalows at the Ritz-Carlton and the Four Seasons. This year, head to the Desaru Coast, where the One & Only plans to be the first five-star property in the region come Spring 2019.
The area is home to some of the most beautiful beaches in Southeast Asia, according to Embark Beyond, and the property's "42 suites plus an exclusive four-bedroom villa on one of Malaysia's most beautiful beaches is a perfect extension to a business trip or exploration of the wonders of Asia."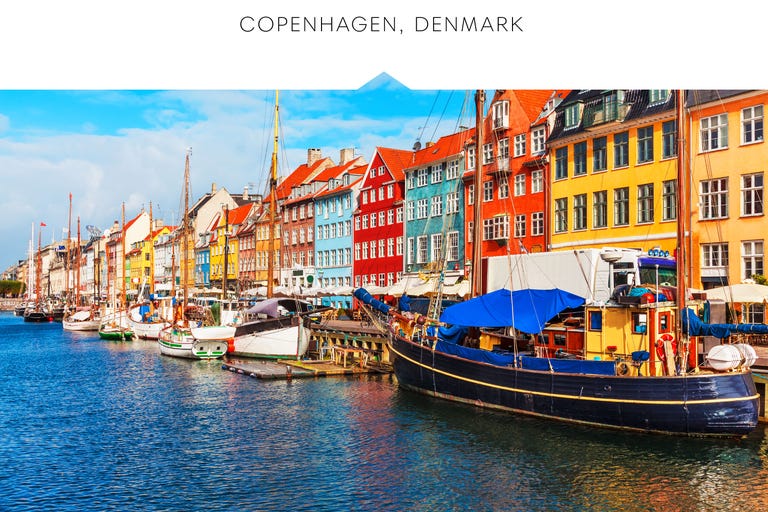 In short, Copenhagen is just cool. Lovers of design, architecture, and art will thrive here, where all-modern everything reigns supreme, contrasted by historic monuments. The city's Meatpacking District has reinvented itself, and is now suffused with cool bars, restaurants, galleries, and nightlife.
Food in Copenhagen is New-Nordic, with noma at its helm. The innovative, years-long-waitlisted dining experience has opened up in a new space with an urban farm to boot, and is well worth a visit. To dine here is far more of an experience than it is a meal. For a bit of fun, head to Tivoli Gardens, a historic amusement park–now open year-round.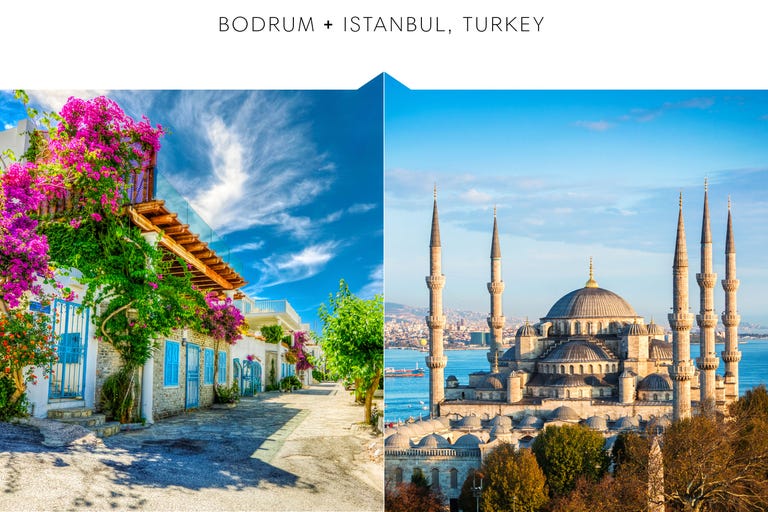 Turkey (like France, Israel, Egypt, and more) was previously dubbed as not-safe-for-travel due to terrorism -- but Istanbul has been making a comeback. Turkey has become a bucket list destination for those looking for a trip jam-packed with bold culture, flavors, color, activities, art, architecture, nightlife, and more.
It's never been easier to travel to Turkey, with the upcoming Istanbul New Airport slated to be the world's largest once construction is complete. Istanbul's bevy of chic, luxury properties and their Soho House are reason alone to spend nights here, along with the ever-evolving food scene, with Chef's Table-famous Musa Dağdeviren's Çiya Kebap and Çiya Sofrasiin the mix.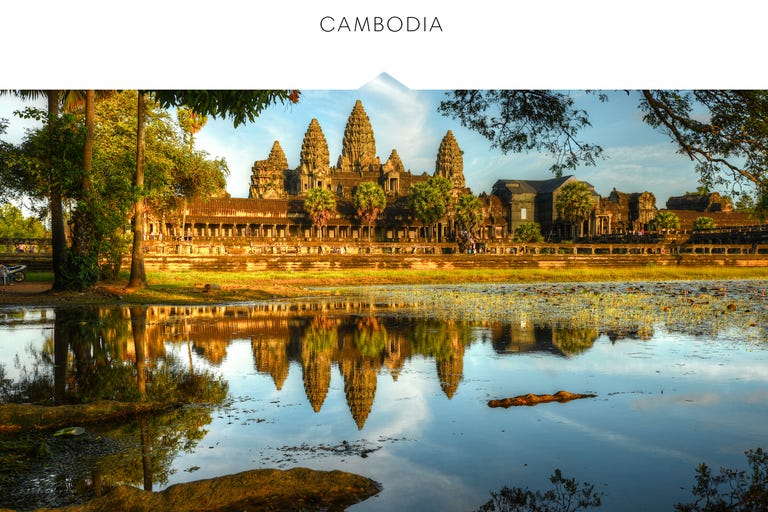 Like India and the Taj Mahal, you cannot make the trek to Cambodia without stopping in Siem Reap to take in the historic, spiritual, and breathtaking Angkor Wat — but for 2019, Cambodia is so much more than its main attraction. The country "is experiencing a wave of new hotel openings that will attract discerning travelers to new regions away from the crowds of Siem Reap, including the new Six Senses Krabey Island," says Tom Marchant of Black Tomato. "For 2019, our Travel Experts are crafting a new tour which takes adventurous travelers far off the beaten path to discover the quieter side of the Siem Reap countryside and Tonle Sap Lake on a new cycling and kayaking adventure through villages and rice fields that haven't changed for decades. Guests can even choose to travel by local oxcart if they so wish."
The country is also full of options for the five-star seeker: "Clients are now exploring the backwaters along the Mekong with luxury ships like the Aqua Mekong, and spending time learning about the riveting history in Phnom Penh with the Raffles Hotel Le Royal and new Rosewood Phnom Penh standing as comfortable western homes. Song Saa, a private island resort, now attracts adventurers looking for a sexy reprieve from exploring," says Jack Ezon of Embark Beyond.
"The greatly anticipated Shinta Mani promises to be a true game-changer. Located in the remote Cambodian countryside, in the South Cardamom National Park, it gives guests a chance to explore remote local villages through a host of recreational activities with incredible luxury tents to come home to at the end of a day." The camp is all-inclusive, features an all-natural spa, and is comprised of only 15 tents–book fast.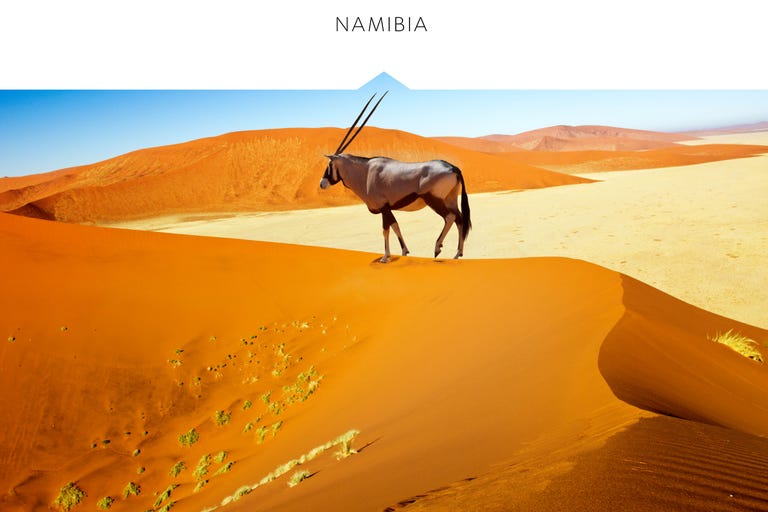 "The sprawling Skeleton Coast, a previously hard to access corner of the country, is now ripe for adventure with several new design focused luxury lodges which have recently opened, like Shipwreck Lodge," says Marchant of Black Tomato. The property features 10 mock-shipwrecks, each appointed with chic, contemporary finishings. Also worth a stay in this remote part of the world? Hoanib Skeleton Coast Camp, which Marchant dubbed one of BAZAAR's Best Hotels in the World. This alternative wilderness retreat is set in the heart of the Namib Naukluft wilderness, and only accessible by air. After a night spent in a perfectly-appointed luxury tent, take a drive out into the Hoanib river bed to spot desert wildlife like lions, elephants, giraffes and native herds of gemsbok and springbok.
"Now the otherworldly landscapes, unique desert adapted wildlife, and haunting shipwreck relics are waiting to be explored. Our Travel Experts suggest taking a scenic flight to Möwe Bay. From here, you will have the opportunity to explore the dunes at Little Oasis, and explore the corroded remains of the Suiderkus shipwreck.
For travelers looking for something a little different, we love to set up bespoke luxury camps in the middle of the remote deserts. From Swakopmund we can arrange for clients to set off on a sunset quad bike ride through the desert to reach their bespoke camp set up just for them under the star-lit sky. For adventurers, we can also arrange unforgettable night-walk safaris along The Hoanib River route, which takes guests through game rich valleys and river beds in search of a fresh track of black rhino or desert elephant."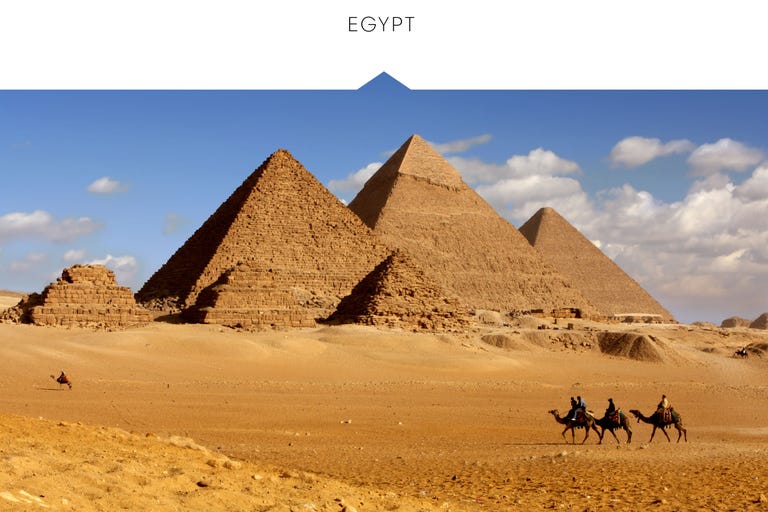 Egypt is (finally) back on the jet-set radar. The anticipated opening of the delayed Grand Egyptian Museum was intended to revive tourism, showcasing more than 50,000 antiquities and pieces from ancient Egyptian history in a marble temple, including King Tut's entire burial collection.
The unveiling of the $1 billion-plus project has been delayed–again -- and now slated for opening in early 2019, but Egypt has been preparing for its arrival and the influx of domestic and international tourism the opening is sure to attract. In March, the St. Regis will open its doors on the Nile, giving Cairo's less-than-luxurious hotel scene something to talk about. Oberoi's two Nile cruisers, the Philae and the Zahra (the former just got a complete revamp) are also chic 5-7 night experiences, and alternatives to navigating the hotel scene in Cairo.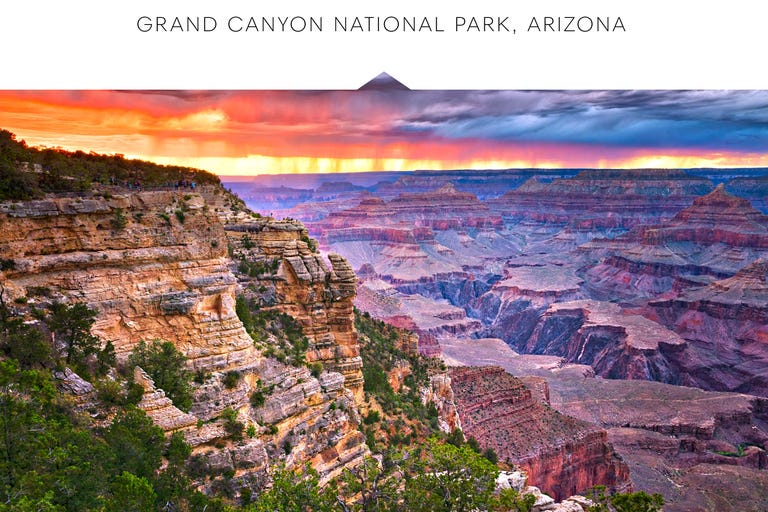 The allure of Monument Valley and Antelope Canyon snagged many Americans who would otherwise stick to the coasts for domestic travel in 2018. This year, Grand Canyon National Park will have its place in the limelight, thanks to it's beauty, grandeur and its 100th birthday celebration. February 26th marks the canyon's 100th year as a designated National Park. It's also a UNESCO World Heritage Site.
Visiting one of the wonders of the U.S. in such a pivotal moment in its history -- and feeling like you're living in Miu Miu's Spring 2018 campaign– make this a standout spot to head to this year for a view, or for one of the most epic hikes of your life.
Source : https://www.shondaland.com/live/a25859961/best-places-to-travel-2019/
Proud
100%
Sad
0%
Excited
0%
Indifferent
0%
Inspired
0%
Amazed
0%