Credit by SOM/Bezier
URBAN LIFE
Singapore
Singapore Will Get a Supertall Skyscraper Build by Burj Khalifa Architects
The first "supertall" skyscraper, which is a phrase for structures taller than 300 meters (984 ft), will soon be built in Singapore. In 2028, the new tower, 8 Shenton Way, which will include offices, a hotel, and 34 storeys of opulent residences, will soar above the city-state in Southeast Asia.
The 1.6 million square foot skyscraper was created by Skidmore, Owings & Merrill (SOM), the American architects of Dubai's Burj Khalifa, the highest structure in the world.
According to the company, the design was "inspired by bamboo woods." A succession of cascading rectangular forms with rooftop terraces are depicted in digital renderings. Over 107,000 square feet of elevated green space will be part of the project, with plants selected with bird and butterfly attraction in mind. The public will have access to more over half of the site's planted areas.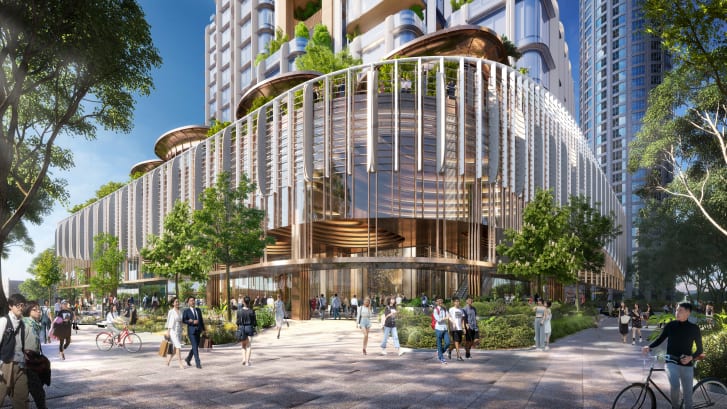 Credit: SOM/Bezier
At a press conference, SOM design principal Nic Medrano stated, "We want to build spaces that are comfortable, where people want to be, and where people are healthy. All residents will be able to "access nature" within "three or four levels."
8 Shenton Way will reportedly be one of Asia's "most sustainable" skyscrapers, according to the company. Once operational, the 305-meter (1,001-foot) tower will use 55% less energy than necessary to receive the highest sustainability grade from the local government, according to the architects.
Mustafa Abadan, a partner in SOM design, claimed that a variety of strategies, including a facade constructed of terracotta, reinforced bamboo, and heat-efficient glass, will result in energy savings. Meanwhile, the tower's outside will have horizontal and vertical fins that will reflect sunlight, keeping the building cooler in Singapore's hot environment.
The city's district cooling system, an underground system of pipes that directs chilled water into air-conditioning units in buildings to lower electricity usage, will also be connected to the tower.
In a news conference, Abadan told CNN that "they are the kinds of things that aggregate into the most sustainable building of this magnitude in Singapore."
The plans for 8 Shenton Way, a supertall skyscraper in Singapore that will be the tallest building in the city and whose design was inspired by bamboo woods, have been made public.
According to the studio, plans for the 63-story skyscraper depict a tiered structure rising from a base covered in vegetation, with a sequence of voids along the facade that were intended to simulate a "bamboo forest."
The "post-pandemic" features of the tower, which, according to SOM, are focused on the tenants' health and safety, were also highlighted. Nic Medrano, design principal at SOM, said, "Emerging from the epidemic, this time gives a rare and exciting opportunity for architects to explore new approaches to health-driven placemaking."
These implementations will feature anti-microbial materials, contactless technologies, and better ventilation. The building's curved pedestal is depicted in renderings as being covered in vertical louvers and stylised fans. The pedestal is pierced by pagoda-like glass and wood structures that will house public facilities.
High-efficiency glass and concrete will be utilized for the structure, and according to SOM, the concrete will include a specific percentage of "recyclable aggregates."
The adjacent Guoco Tower, which was finished in 2018, is the only other structure to date to rise higher than 280 meters. The skyscraper, which was also created by SOM, is 290 meters (951 feet) tall and houses a penthouse apartment that British billionaire entrepreneur James Dyson famously bought for 73.8 million Singapore dollars (at the time, $54.2 million) in 2019.
In addition to the Burj Khalifa, SOM has created two of the ten highest structures in the world: the One World Trade Center in New York and the CTF Finance Centre in Tianjin, China. It created the design for 8 Shenton Way in association with a nearby Singaporean architectural firm, DCA Architects.
Source: CNN.com, Dezeen.com
Proud
0%
Sad
0%
Excited
0%
Indifferent
0%
Inspired
0%
Amazed
0%